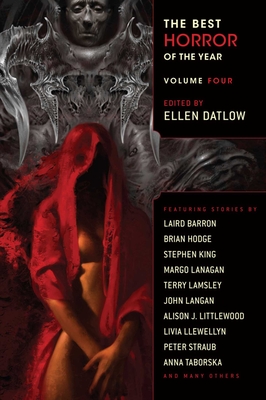 The Best Horror of the Year Volume 4 (Paperback)
Night Shade, 9781597803991, 448pp.
Publication Date: May 1, 2012
Other Editions of This Title:
Paperback (3/1/2010)
Paperback (6/1/2011)
Paperback (6/7/2016)
Paperback (6/3/2014)
Paperback (9/3/2013)
Paperback (8/18/2015)
Paperback (7/11/2017)
Paperback (10/1/2009)
Compact Disc (1/15/2014)
Compact Disc (1/15/2014)
Paperback (9/1/2020)
* Individual store prices may vary.
Description
Fear is the oldest human emotion. The most primal. We like to think we're civilized. We tell ourselves we're not afraid. And every year, we skim our fingers across nightmares, desperately pitting our courage against shivering dread.

A paraplegic millionaire hires a priest to exorcise his pain; a failing marriage is put to the ultimate test; hunters become the hunted as a small group of men ventures deep into a forest; a psychic struggles for her life on national televi¬sion; a soldier strikes a grisly bargain with his sis¬ter's killer; ravens answer a child's wish for magic; two mercenaries accept a strangely simplistic assignment; a desperate woman in an occupied land makes a terrible choice...

What scares you? What frightens you? Horror wears new faces in these carefully selected stories. The details may change. But the fear remains.

Night Shade Books is proud to present The Best Horror of the Year: Volume Four, a new collection of horror brought to you by Ellen Datlow, winner of multiple Hugo, Bram Stoker, and World Fantasy awards.
About the Author
Ellen Datlow has been editing science fiction, fantasy, and horror short fiction for more than thirty years. She was the fiction editor of Omni magazine and Sci Fiction and has edited more than fifty anthologies. Datlow has also won lifetime achievement awards from three prominent genre organizations, and currently acquires short fiction for Tor.com.
Praise For The Best Horror of the Year Volume 4…
Praise for Ellen Datlow and The Best Horror of the Year Series:

"Award-winning editor Ellen Datlow has assembled a tasty collection of twenty one terrifying and unsettling treats. In addition to providing excellent fiction to read, this is the perfect book for discovering new authors and enriching your life through short fiction."—Kirkus Reviews

"For more than three decades, Ellen Datlow has been at the center of horror. Bringing you the most frightening and terrifying stories, Datlow always has her finger on the pulse of what horror fans crave. . . . and the anthologies just keep getting better and better. She's an icon in the industry."—Signal Horizon

"Datlow's The Best Horror of the Year series is one of the best investments you can make in short fiction. The current volume is no exception."—Adventures Fantastic

"As usual, Datlow delivers what she promises, 'the best horror of the year,' whether it's written by the famous (Neil Gaiman) or the should-be famous (Laird Barron and many others)."
—Washington Post

"You just can't have a list of recommended speculative anthologies without including an Ellen Datlow anthology. It's. Not. Possible. The line-up in The Best Horror of the Year Volume Eight is absolutely stupendous, featuring the most frighteningly talented authors in horror fiction."—Tor.com

"Once again, [Ellen Datlow supplies] an invaluable book, featuring excellent short fiction and, in addition, providing as always precious information about what happened in the horror field last year."—Mario Guslandi, British Fantasy Society

Praise for Ellen Datlow and The Best Horror of the Year Series:

"Award-winning editor Ellen Datlow has assembled a tasty collection of twenty one terrifying and unsettling treats. In addition to providing excellent fiction to read, this is the perfect book for discovering new authors and enriching your life through short fiction."—Kirkus Reviews

"For more than three decades, Ellen Datlow has been at the center of horror. Bringing you the most frightening and terrifying stories, Datlow always has her finger on the pulse of what horror fans crave. . . . and the anthologies just keep getting better and better. She's an icon in the industry."—Signal Horizon

"Datlow's The Best Horror of the Year series is one of the best investments you can make in short fiction. The current volume is no exception."—Adventures Fantastic

"As usual, Datlow delivers what she promises, 'the best horror of the year,' whether it's written by the famous (Neil Gaiman) or the should-be famous (Laird Barron and many others)."
—Washington Post

"You just can't have a list of recommended speculative anthologies without including an Ellen Datlow anthology. It's. Not. Possible. The line-up in The Best Horror of the Year Volume Eight is absolutely stupendous, featuring the most frighteningly talented authors in horror fiction."—Tor.com

"Once again, [Ellen Datlow supplies] an invaluable book, featuring excellent short fiction and, in addition, providing as always precious information about what happened in the horror field last year."—Mario Guslandi, British Fantasy Society