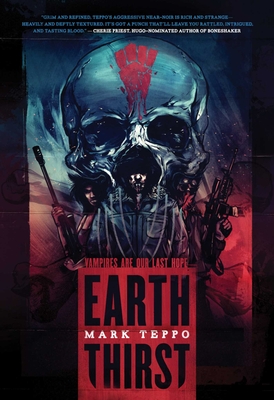 Earth Thirst (Arcadian Conflict) (Paperback)
Night Shade, 9781597804455, 320pp.
Publication Date: January 8, 2013
* Individual store prices may vary.
Description
The Earth is dying. Humanity — over-breeding, over-consuming — is destroying the very planet they call home. Multinational corporations despoil the environment, market genetically modified crops to control the food supply, and use their wealth and influence and private armies to crush anything, and anyone, that gets in the way of their profits. Nothing human can stop them. But something unhuman might. Once they did not fear the sun. Once they could breathe the air and sleep where they chose. But now they can rest only within the uncontaminated soil of Mother Earth—and the time has come for them to fight back against the ruthless corporations that threaten their immortal existence.

They are the last guardians of paradise, more than human but less than angels. They call themselves the Arcadians. We know them as vampires. . . .

Skyhorse Publishing, under our Night Shade and Talos imprints, is proud to publish a broad range of titles for readers interested in science fiction (space opera, time travel, hard SF, alien invasion, near-future dystopia), fantasy (grimdark, sword and sorcery, contemporary urban fantasy, steampunk, alternative history), and horror (zombies, vampires, and the occult and supernatural), and much more. While not every title we publish becomes a New York Times bestseller, a national bestseller, or a Hugo or Nebula award-winner, we are committed to publishing quality books from a diverse group of authors.
About the Author
Mark Teppo (born May 21, 1968) is an American author of contemporary fantasy and science fiction. His work is strongly peppered with references to occult concepts, most commonly those of Hermeticism and Alchemy. Prior to his current tenure as a fiction writer Teppo was a music journalist working both as a staff reviewer and editor for various publications such as Earpollution, Igloo Magazine, Earplug, and OPi8.com. Teppo is also Chief Creative Officer of Subutai Corporation, whose first offering is the interactive fiction project The Mongoliad.
or
Not Currently Available for Direct Purchase