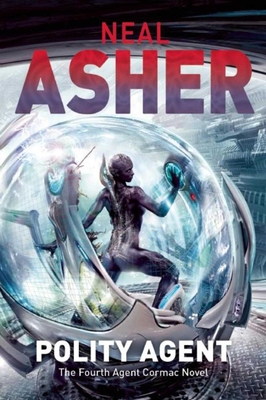 Polity Agent
The Fourth Agent Cormac Novel
Paperback

* Individual store prices may vary.
Other Editions of This Title:
Mass Market (1/1/2019)
Description
The thrilling fourth installment in Neal Asher's Cormac series.

From eight hundred years in the future, a runcible gate is opened into the Polity and those coming through it have been sent specially to take the alien "Maker" back to its home civilization in the Small Magellanic Cloud. Once these refugees are safely through, the gate itself is rapidly shut down—because something alien is pursuing them. The gate is then dumped into a nearby sun.

From those refugees who get through, Agent Ian Cormac learns that the Maker civilization has been destroyed by a pernicious virus known as the Jain technology. This, of course, raises questions: Why was Dragon, a massive bioconstruct of the Makers, really sent to the Polity? Why did a Jain node suddenly end up in the hands of someone who could do the most damage with it? Meanwhile an entity called the Legate is distributing pernicious Jain nodes . . . and a renegade attack ship, The King of Hearts, has encountered something very nasty outside the Polity itself.

The fourth entry in Neal Asher's Agent Cormac series, Polity Agent marks another gripping and exciting look into the author's vast Polity universe.

Skyhorse Publishing, under our Night Shade and Talos imprints, is proud to publish a broad range of titles for readers interested in science fiction (space opera, time travel, hard SF, alien invasion, near-future dystopia), fantasy (grimdark, sword and sorcery, contemporary urban fantasy, steampunk, alternative history), and horror (zombies, vampires, and the occult and supernatural), and much more. While not every title we publish becomes a New York Times bestseller, a national bestseller, or a Hugo or Nebula award-winner, we are committed to publishing quality books from a diverse group of authors.
Night Shade, 9781597805094, 576pp.
Publication Date: May 6, 2014
About the Author
Neal Asher is a science fiction writer whose work has been nominated for both the Philip K. Dick and the British Fantasy Society awards. He has published more than fifteen books, many set within his "Polity" universe, including Gridlinked, The Skinner, and Prador Moon. He divides his time between Essex and a home in Crete.