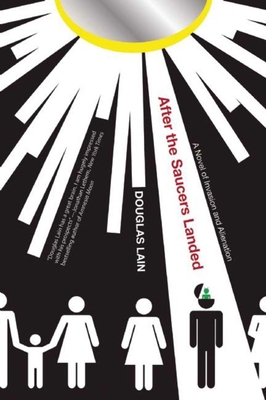 After the Saucers Landed (Paperback)
Night Shade, 9781597808231, 248pp.
Publication Date: August 4, 2015
* Individual store prices may vary.
Description
NOMINATED FOR THE 2016 PHILIP K. DICK AWARD

"When the alien gets around to unzipping her jumpsuit it'll be impossible to see what's underneath."

UFOlogist Harold Flint is heartbroken and depressed that the aliens that have landed on the White House lawn appear to be straight out of an old B movie. They wave to the television cameras in their sequined jumpsuits, form a nonprofit organization offering new age enlightenment, and hover their saucers over the streets of New York looking for converts.

Harold wants no part of this kitschy invasion until one of the aliens, a beautiful blonde named Asket, begs him to investigate the saucers again and write another UFO book. The aliens and their mission are not as they seem.

Asket isn't who she seems either. Tracking down her true personality leads Harold and his cowriter through a maze of identity and body-swapping madness, descending into paranoia as Harold realizes that reality, or at least humanity's perception of it, may be more flexible than anyone will admit.

After the Saucers Landed is a deeply unsettling experimental satire, placing author Douglas Lain alongside contemporaries like Jeff VanderMeer and Charles Yu as one of his generation's most exciting and challenging speculative fiction voices.

Skyhorse Publishing, under our Night Shade and Talos imprints, is proud to publish a broad range of titles for readers interested in science fiction (space opera, time travel, hard SF, alien invasion, near-future dystopia), fantasy (grimdark, sword and sorcery, contemporary urban fantasy, steampunk, alternative history), and horror (zombies, vampires, and the occult and supernatural), and much more. While not every title we publish becomes a New York Times bestseller, a national bestseller, or a Hugo or Nebula award-winner, we are committed to publishing quality books from a diverse group of authors.
About the Author
Douglas Lain's short fiction has appeared in many magazines and journals here and abroad. Since 2009, he has produced the weekly podcast Diet Soap, interviewing a wide range of fascinating, engaging people with insights for the new millennium: philosophers, mystics, economists, and a diverse group of fiction writers. He lives in Portland, Oregon, with his wife and children.
Praise For After the Saucers Landed…
Nominated for the 2016 Philip K. Dick Award

"There's something fresh and stirring about Lain's rendering of the subject matter . . . Lain [has a] sharp and easy voice, cool humor and wit, appetite for the absurd, and understanding of our mediatized nuances."
—L.A. Review of Books

"Lain's writing is unsettling, ferociously smart, and extremely addictive."
—Kelly Link, author of Get in Trouble and Magic for Beginners

"Brilliant. . .Lain manages in his subtle and involving tale of shifting realities to tie in Fluxus, the Carpenters. . .and the aliens with whom we are most familiar, the ones we see in our mirrors each day."
—Jack Womack, author of Random Acts of Senseless Violence

"Lain takes us on a wild trip through the art and science of flying saucers and explores the fluid nature of identity in interesting and surprising ways. You'll be glad you read this."
—Ray Vukcevich, author of Meet Me in the Moon Room

"Douglas Lain has a great brain. I am hugely impressed with his prospects..."
—Jonathan Lethem, New York Times bestselling author

"I don't know anyone else doing quite what Lain is doing; fascinating work, moving, strikingly honest, powerful."
—Locus

Nominated for the 2016 Philip K. Dick Award

"There's something fresh and stirring about Lain's rendering of the subject matter . . . Lain [has a] sharp and easy voice, cool humor and wit, appetite for the absurd, and understanding of our mediatized nuances."
—L.A. Review of Books

"Lain's writing is unsettling, ferociously smart, and extremely addictive."
—Kelly Link, author of Get in Trouble and Magic for Beginners

"Brilliant. . .Lain manages in his subtle and involving tale of shifting realities to tie in Fluxus, the Carpenters. . .and the aliens with whom we are most familiar, the ones we see in our mirrors each day."
—Jack Womack, author of Random Acts of Senseless Violence

"Lain takes us on a wild trip through the art and science of flying saucers and explores the fluid nature of identity in interesting and surprising ways. You'll be glad you read this."
—Ray Vukcevich, author of Meet Me in the Moon Room

"Douglas Lain has a great brain. I am hugely impressed with his prospects..."
—Jonathan Lethem, New York Times bestselling author

"I don't know anyone else doing quite what Lain is doing; fascinating work, moving, strikingly honest, powerful."
—Locus