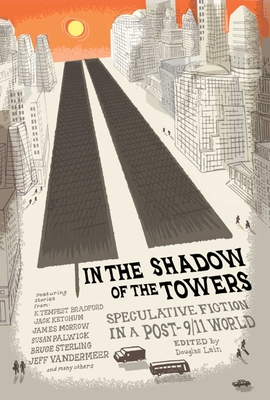 In the Shadow of the Towers (Paperback)
Speculative Fiction in a Post-9/11 World
Night Shade, 9781597808392, 352pp.
Publication Date: September 1, 2015
* Individual store prices may vary.
Description
In the Shadow of the Towers compiles nearly twenty works of speculative fiction responding to and inspired by the events of 9/11, from writers seeking to confront, rebuild, and carry on, even in the face of overwhelming emotion.

Writer and editor Douglas Lain presents a thought-provoking anthology featuring a variety of award-winning and best-selling authors, from Jeff VanderMeer (Annihilation) and Cory Doctorow (Little Brother) to Susan Palwick (Flying in Place) and James Morrow (Towing Jehovah). Touching on themes as wide-ranging as politics, morality, and even heartfelt nostalgia, today's speculative fiction writers prove that the rubric of the fantastic offers an incomparable view into how we respond to tragedy.

Each contributor, in his or her own way, contemplates the same question:

How can we continue dreaming in the shadow of the towers?

Skyhorse Publishing, under our Night Shade and Talos imprints, is proud to publish a broad range of titles for readers interested in science fiction (space opera, time travel, hard SF, alien invasion, near-future dystopia), fantasy (grimdark, sword and sorcery, contemporary urban fantasy, steampunk, alternative history), and horror (zombies, vampires, and the occult and supernatural), and much more. While not every title we publish becomes a New York Times bestseller, a national bestseller, or a Hugo or Nebula award-winner, we are committed to publishing quality books from a diverse group of authors.
About the Author
Douglas Lain is an author and the publisher of Zero Books, which specializes in philosophy and political theory. He hosts the Zero Squared podcast, interviewing a wide range of fascinating and engaging people with insights for the new millennium. He lives in Portland, Oregon, with his wife and children.
Praise For In the Shadow of the Towers: Speculative Fiction in a Post-9/11 World…
"A powerful and interesting anthology of immediate reactions, later analyses, and lingering memories."
—Publishers Weekly

"A powerful and interesting anthology of immediate reactions, later analyses, and lingering memories."
—Publishers Weekly