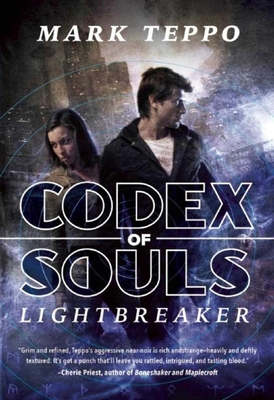 Lightbreaker (Paperback)
The First Book of The Codex of Souls
Night Shade, 9781597808675, 324pp.
Publication Date: March 29, 2016
Other Editions of This Title:
Mass Market (9/1/2007)
* Individual store prices may vary.
Description
A troubled occultist-sorcerer confronts a gritty Seattle underbelly in this dark and unique urban fantasy.

Markham has returned to Seattle searching for Katarina, the girl who, a decade ago, quite literally tore his soul from his body. What he discovers instead is dark magick of an ancient and destructive kind.

His encounter with a desperate spirit leaping from host to host sets Markham on the trail of a secretive cabal of magicians whose past is strangely linked to his own. Armed with the Chorus, a phantasmal chain of human souls which he wields as a weapon of will, Markham must engage in a magickal battle whose stakes prove to be earth shatteringly high.

From Mark Teppo comes an explosive, action-packed occult thriller combining Western magick, Hermetic traditions, and shamanism.

Skyhorse Publishing, under our Night Shade and Talos imprints, is proud to publish a broad range of titles for readers interested in science fiction (space opera, time travel, hard SF, alien invasion, near-future dystopia), fantasy (grimdark, sword and sorcery, contemporary urban fantasy, steampunk, alternative history), and horror (zombies, vampires, and the occult and supernatural), and much more. While not every title we publish becomes a New York Times bestseller, a national bestseller, or a Hugo or Nebula award-winner, we are committed to publishing quality books from a diverse group of authors.
About the Author
Mark Teppo is the author of nearly a dozen novels that run the gamut from historical adventure fiction, eco-thriller, urban fantasy, and experimental narrative and the publisher and founder of Resurrection House.
Praise For Lightbreaker: The First Book of The Codex of Souls…
"Grim and refined, Teppo's aggressive near-noir is rich and strange—heavily and deftly textured. It's got a punch that'll leave you rattled, intrigued, and tasting blood."
—Cherie Priest, author of Boneshaker and Maplecroft

"The best book about magic that I have read since Peter Straub's Shadowland...Complex, dark, and one hell of a ride."
—Famous Monsters of Filmland

"With Lightbreaker, Mark Teppo has built something out of shadow and starlight that grabs the reader and simply won't let go. The story is dark and dense and beautifully written. It is also eerie and morally complex and yet ultimately hopeful. Perhaps more to the point, it's simply a damn good read and I'm very much looking forward to seeing what Teppo does next."
—Kelly McCullough, author of WebMage and Broken Blade

"...awash in unpredictable emotions."
—The Green Man Review

"Grim and refined, Teppo's aggressive near-noir is rich and strange—heavily and deftly textured. It's got a punch that'll leave you rattled, intrigued, and tasting blood."
—Cherie Priest, author of Boneshaker and Maplecroft

"The best book about magic that I have read since Peter Straub's Shadowland...Complex, dark, and one hell of a ride."
—Famous Monsters of Filmland

"With Lightbreaker, Mark Teppo has built something out of shadow and starlight that grabs the reader and simply won't let go. The story is dark and dense and beautifully written. It is also eerie and morally complex and yet ultimately hopeful. Perhaps more to the point, it's simply a damn good read and I'm very much looking forward to seeing what Teppo does next."
—Kelly McCullough, author of WebMage and Broken Blade

"...awash in unpredictable emotions."
—The Green Man Review
or
Not Currently Available for Direct Purchase