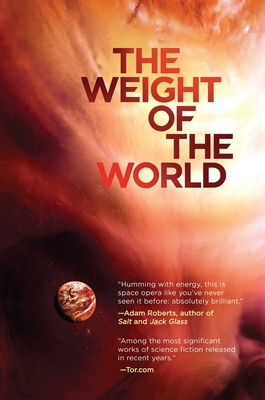 The Weight of the World (Hardcover)
Volume Two of The Amaranthine Spectrum
Night Shade, 9781597808750, 432pp.
Publication Date: January 24, 2017
Other Editions of This Title:
Paperback (8/15/2017)
* Individual store prices may vary.
Description
It is the 147th century; the turning of the Amaranthine new year.

In the provinces of the Old World, the giant Elatine's war of liberation has come to an impasse, leaving the wicked monarchy of the First in possession of the throne.

In the Vaulted Lands of the Firmament, acolytes have risen up to execute their immortal masters. The opportunistic races of the Prism, intoxicated with greed, have arrived inside every Solar Satrapy to scavenge what's left.

In the wild Investiture, on a forgotten water moon, a crew of shipwrecked Privateers come face to face with their greatest terror, and with it the most valuable treasure in all the galaxy.

Jatropha, legendary Immortal, must escort his precious charge through the exotic Westerly Provinces, knowing all the world would steal her if they could.

Sotiris, his mind fading fast, must set out to find his dear, drowned sister in a land previously unglimpsed by anyone but the dead.

Lycaste, now far from home, must journey in strange company to the edge of a tempestuous sea, to the lair of someone so dangerous that even the legendary Amaranthine fear his name.

Skyhorse Publishing, under our Night Shade and Talos imprints, is proud to publish a broad range of titles for readers interested in science fiction (space opera, time travel, hard SF, alien invasion, near-future dystopia), fantasy (grimdark, sword and sorcery, contemporary urban fantasy, steampunk, alternative history), and horror (zombies, vampires, and the occult and supernatural), and much more. While not every title we publish becomes a New York Times bestseller, a national bestseller, or a Hugo or Nebula award-winner, we are committed to publishing quality books from a diverse group of authors.
About the Author
Tom Toner was born in Somerset, England, in 1986. After graduating with a degree in Fine Art from Loughborough University and the FHSH in Schwäbisch Hall, Germany, he moved to Australia, teaching life drawing and working in an art gallery near Melbourne. The Weight of the World is the sequel to Toner's debut, The Promise of the Child. He currently lives in London.
Praise For The Weight of the World: Volume Two of The Amaranthine Spectrum…
Praise for The Weight of the World:

"This extensive story of the 147th century is filled with spectacular ideas and adventure across the solar system and beyond. . . . a tour de force of universe building and characterization . . . splendid, outrageous and brilliant speculations . . . affording careful readers a complex tale of a possible far future."—Shelf Awareness, reviewed by Rob LeFebvre

"Deeply imagined, deliberately paced, and brain-breakingly opaque (in the best way) . . . while much remains a mystery, Toner's confident style—and the forceful impact on the reader when pieces do fall into place—give the sequel a heft and power that goes beyond the plot twists."—B&N Sci-Fi & Fantasy Blog, "B&N Bookseller's Picks: The Best Science Fiction and Fantasy Books of January 2017"

"I was hooked from the very beginning . . . Tom Toner paints his characters and worlds beautifully, even when they're at their ugliest. This is a clever, ambitious, inventive, wondrous series, brilliantly executed, that leaves me wanting more and soon. It might be only February but this is the science fiction novel to beat this year and it most certainly won't be easy."—For Winter Nights

Praise for The Promise of the Child:

"To call The Promise of the Child one of the most accomplished debuts of 2015 so far is to understate its weight—instead, let me moot that is among the most significant works of science fiction released in recent years."
—Tor.com

"One of the most ambitious and epic-scale pieces of worldbuilding I've read. Reading The Promise of the Child, you feel you're in the presence of an author at the height of his powers. If this is what Toner is like when he's just getting started, I think we can expect great things from him. Utterly absorbing; a tremendous adventure."
—Karl Schroeder, author of Lockstep and Sun of Suns

"Bold and intense from start to finish, The Promise of the Child is a master-class in innovative, evocative world-building. The entire book buzzes with imagination."
—Michael J. Martinez, author of The Daedalus Incident

"An amazing debut—a colorful space opera in the post-human tradition of Iain M. Banks, combined with the razor-sharp plotting of Alastair Reynolds. It left me feverish with delight."
—Loren Rhoads, author of The Dangerous Type

"Humming with energy, this is space opera like you've never seen it before. Absolutely brilliant."
—Adam Roberts, author of Salt and Jack Glass

"A dizzying mash-up of science fiction and fantasy themes that are both mystifying and entertaining. . .will appeal to readers who enjoy the offbeat end of far-future sf. This is the kind of novel that could develop a cult following."
—Booklist Reviews

"Ambitious. . .The several 147th-century cultures on display are fascinating. . .The pace picks up as the tale moves toward its end, but this is the kind of book that will most appeal to cerebral readers who can appreciate its characters' many verbal interactions."
—Publisher's Weekly

"This is the purest example of space opera we've seen in some time. . . .The book is challenging, ambitious, and rewarding, and it's impossible not to admire Toner's wild imagination and carefully constructed world. This thing is bonkers, no question. It's also one helluva debut."
—Barnes & Noble, Sci-Fi & Fantasy Blog

"Marvelous. . .a space opera of surpassing gracefulness, depth, complexity, and well, all-round weirdness."
—Paul Di Filippo, Locus

"First rate. . .a clever and interesting world, with something new always coming across the horizon, more wonders as yet unreached. I ate it up with a spoon."
—Paul Weimer, SFSignal

Praise for The Weight of the World:

"This extensive story of the 147th century is filled with spectacular ideas and adventure across the solar system and beyond. . . . a tour de force of universe building and characterization . . . splendid, outrageous and brilliant speculations . . . affording careful readers a complex tale of a possible far future."—Shelf Awareness, reviewed by Rob LeFebvre

"Deeply imagined, deliberately paced, and brain-breakingly opaque (in the best way) . . . while much remains a mystery, Toner's confident style—and the forceful impact on the reader when pieces do fall into place—give the sequel a heft and power that goes beyond the plot twists."—B&N Sci-Fi & Fantasy Blog, "B&N Bookseller's Picks: The Best Science Fiction and Fantasy Books of January 2017"

"I was hooked from the very beginning . . . Tom Toner paints his characters and worlds beautifully, even when they're at their ugliest. This is a clever, ambitious, inventive, wondrous series, brilliantly executed, that leaves me wanting more and soon. It might be only February but this is the science fiction novel to beat this year and it most certainly won't be easy."—For Winter Nights

Praise for The Promise of the Child:

"To call The Promise of the Child one of the most accomplished debuts of 2015 so far is to understate its weight—instead, let me moot that is among the most significant works of science fiction released in recent years."
—Tor.com

"One of the most ambitious and epic-scale pieces of worldbuilding I've read. Reading The Promise of the Child, you feel you're in the presence of an author at the height of his powers. If this is what Toner is like when he's just getting started, I think we can expect great things from him. Utterly absorbing; a tremendous adventure."
—Karl Schroeder, author of Lockstep and Sun of Suns

"Bold and intense from start to finish, The Promise of the Child is a master-class in innovative, evocative world-building. The entire book buzzes with imagination."
—Michael J. Martinez, author of The Daedalus Incident

"An amazing debut—a colorful space opera in the post-human tradition of Iain M. Banks, combined with the razor-sharp plotting of Alastair Reynolds. It left me feverish with delight."
—Loren Rhoads, author of The Dangerous Type

"Humming with energy, this is space opera like you've never seen it before. Absolutely brilliant."
—Adam Roberts, author of Salt and Jack Glass

"A dizzying mash-up of science fiction and fantasy themes that are both mystifying and entertaining. . .will appeal to readers who enjoy the offbeat end of far-future sf. This is the kind of novel that could develop a cult following."
—Booklist Reviews

"Ambitious. . .The several 147th-century cultures on display are fascinating. . .The pace picks up as the tale moves toward its end, but this is the kind of book that will most appeal to cerebral readers who can appreciate its characters' many verbal interactions."
—Publisher's Weekly

"This is the purest example of space opera we've seen in some time. . . .The book is challenging, ambitious, and rewarding, and it's impossible not to admire Toner's wild imagination and carefully constructed world. This thing is bonkers, no question. It's also one helluva debut."
—Barnes & Noble, Sci-Fi & Fantasy Blog

"Marvelous. . .a space opera of surpassing gracefulness, depth, complexity, and well, all-round weirdness."
—Paul Di Filippo, Locus

"First rate. . .a clever and interesting world, with something new always coming across the horizon, more wonders as yet unreached. I ate it up with a spoon."
—Paul Weimer, SFSignal
or
Not Currently Available for Direct Purchase