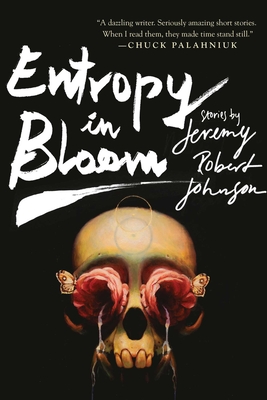 Entropy in Bloom (Hardcover)
Stories
Night Shade, 9781597808958, 280pp.
Publication Date: April 18, 2017
* Individual store prices may vary.
Description
Available in hardcover for the first time, a collection of cult sensation Jeremy Robert Johnson's best and most bizarre short fiction, including a brand-new, never-before-published novella.

For more than a decade, Jeremy Robert Johnson has been bubbling under the surface of both literary and genre fiction. His short stories present a brilliantly dark and audaciously weird realm where cosmic nightmares collide with all-too-human characters and apocalypses of all shapes and sizes loom ominously. In "Persistence Hunting," a lonely distance runner is seduced into a brutal life of crime with an ever-narrowing path for escape. In "When Susurrus Stirs," an unlucky pacifist must stop a horrifying parasite from turning his body into a sentient hive. Running through all of Johnson's work is a hallucinatory vision and deeply-felt empathy, earning the author a reputation as one of today's most daring and thrilling writers.

Featuring the best of his independently-published short fiction, as well as an exclusive, never-before-published novella "The Sleep of Judges"—where a father's fight against the denizens of a drug den becomes a mind-bending suburban nightmare—Entropy in Bloom is a perfect compendium for avid fans and an ideal entry point for adventurous readers seeking the humor, heartbreak, and terror of JRJ's strange new worlds.

Table of Contents:
An Introduction by Brian Evenson

The League of Zeroes
Persistence Hunting
The Oarsman
The Gravity of Benham Falls
Dissociative Skills
Snowfall
When Susurrus Stirs
Luminary
Trigger Variation
Cathedral Mother
Swimming in the House of the Sea
Saturn's Game
The Sharp Dressed Man at the End of the Line
A Flood of Harriers
States of Glass
The Sleep of Judges
About the Author
Jeremy Robert Johnson is the author of the critically-acclaimed cult novel Skullcrack City. His fiction has been praised by the Washington Post and authors like Chuck Palahniuk and David Wong, and has appeared internationally in numerous anthologies and magazines.
Praise For Entropy in Bloom: Stories…
?Entropy in Bloom is an instant classic, a carefully curated manifesto whose main goal is to tell the world one of the brightest stars in indie lit is now too brilliant to remain hidden. . . . This collection should turn him into the writer everyone is talking about. These fifteen stories and one novella show a powerful imagination, a great talent for storytelling, writing chops that allow him to tackle any genre, and a flowing, dynamic voice that, if Johnson were a singer, would extend to an impressive eight octaves.??ElectricLit

Praise for Entropy in Bloom and Jeremy Robert Johnson:

?Johnson is a master of mood, seamlessly combining the literary with the grotesque. Horror fans will find much to chew on, and these stories will certainly reach a wider audience. Johnson deserves to be a household name, as this superb collection makes clear.? ?Publishers Weekly, starred review

?A perfect place to get acquainted with one of the darkest stars in the genre. . . . Johnson captures humanity?s absurdity, our grotesqueries, sometimes our triumphs, all the while pushing past the limits of reality, transforming it into something dark, and surreal, and unforgettable.??B&N Sci-Fi & Fantasy Blog, included in "The Best Horror Books of 2017"

?Showcases the best of the worst of Jeremy Robert Johnson. And by worst, I mean most gut-churning and nightmare inducing. . . . Perfectly paced and extremely creepy . . . will leave you pondering the deeper meaning of random acts of violence for days to come. Enjoy???LitReactor

?Johnson has been churning out literary, surreal, beautiful and repulsive word filth for more than ten years with his short fiction. . . . What links these stories is a sense of damage appraisal and bittersweet heart. Even in the most phantastic and otherworldly stories there is a sense of real, lived in hurt and longing that centers the more extraordinary decorative elements of each piece . . . he?s really talking about the monsters within us all.??DarkMoonDigest

"Exciting, unpredictable and feels slightly dangerous . . . free of the boundaries of conventional literature in ways you can't quite imagine. Entropy in Bloom is emotionally challenging, unpredictable and thoroughly original. I cannot say it enough: I've had a great time with the book."?Dead End Follies,/i>

"[Makes] readers and fellow authors scratch their heads while wondering "How the hell did he pull that off?" Crime, horror, bizarro, and everything in between; Johnson can do it and blow your mind in the process."?LitReactor

?These stories can be uncomfortable, difficult, unflinching, but they?re also always entertaining. Johnson writes with an energy that propels you through some very dark spaces indeed and into something profoundly unsettling but nonetheless human.?
?Brian Evenson, author of A Collapse of Horses and Last Days

?I've seen the future and it?s bizarre, it?s beautifully berserk, it?s Jeremy Robert Johnson.?
?Stephen Graham Jones, author of Mongrels

?A dazzling writer. Seriously amazing short stories. While I read them, they made time stand still.?
?New York Times bestselling author Chuck Palahniuk

?One of the most exciting voices in contemporary fiction. Jeremy Robert Johnson?s work has always tested the limits of both genre and literary fiction.?
?Bookslut

?Jeremy Robert Johnson is dancing to a way different drummer. He loves language, he loves the edge, and he loves us people. This is entertainment...and literature.?
?Jack Ketchum, author of The Girl Next Door and Off Season

?I?m a longtime fan of Johnson. A master of derangement, he?s been bringing it for years.?
?Laird Barron, author of The Beautiful Thing that Awaits Us All

?The people populating these stories are real and vital and you WILL care, deeply, about what becomes of them...and in JRJ?s harsh universe, baaaaad things happen. Often. Prepare thyself.?
?Craig Davidson, author of Rust and Bone and The Fighter

?What makes JRJ?s work stand out from his contemporaries? is the strange sense of empathy?in that regard he is not unlike David Foster Wallace?s wicked and perhaps deranged younger brother. Sometimes the horror is so understated that it?s deadly. JRJ has the ability to balance sheer humanity with sheer grotesquerie.?
?21C Magazine

?The guy?s a genius. Reminds me of William Gibson?the dark interest in altered states of consciousness, the unrelentingly furious forward movement, and the same kind of unlimited imagination.?
?Ben Loory, author of Stories for Nighttime and Some for the Day

?Jeremy Robert Johnson performs stand-up comedy for the gods. And their laughter is a marvelous, terrible thing. He?s the kind of post-Lovecraftian genius berserker who makes the Great Old Ones new again. As with Clive Barker, there is no glorious mutational eruption that Johnson can?t nail directly through your gawping mind?s eye.?
?John Skipp, New York Times bestselling author of Spore (with Cody Goodfellow) and The Bridge (with Craig Spector)

?In its most twisted moments, Johnson?s writing is too gleeful to pigeon-hole as strictly horror, and when he steps outside the gross-out game he transcends most other straight literary writers.?
?Verbicide

?Johnson weaves vivid and fascinatingly grotesque tales.?
?Bookgasm

?I don't know if Mr. Johnson sold his soul to the devil to give him this gift for nightmare imagery, but by god, this guy can write. Johnson excels at pathology and perversity. A confirmed weirdo and authentic writer of uncommon emotional depth who deserves to be watched.?
?Cemetery Dance

?Johnson is probably a few books away from doing for horror what Jonathan Lethem did for science fiction. Plain and simple? Forget horror; this is good fiction.?
?Girl on Demand

?Johnson can write horror, science fiction, crime, and Bizarro. Sometimes he does all of the above within the same story. He?s at once brutal and elegant, innovative and an immediate classic, ridiculously talented and an obvious perfectionist.?
?Horror Talk
?An excellent primer to Johnson?s work. . . . As varied as his stories might be, what?s captivating about them is Johnson?s ability to immediately establish us in their own little universe . . . We only need a few hints and we can smell the rust of it, feel the rough oxidation between our fingers. This is something that takes a deft touch and can be found in the greats of short-story writers.??HorrorTalk"Johnson writes powerful stories. It's an undeniable fact, but the thing that impresses me the most is his ability to humanize things so well . . . it's this that makes the collection so vivid and unique. Entropy in Bloom is a book that any reader of any genre can get into, and find something they'd enjoy."—PenBoysReview, 10/10

"With a collection like this there is no wrong way to jump in. All that matters is you do."—Clash Media

"I say again, brilliant. There is not a bad story in the bunch here. Every single one is an exercise in tight writing and language and giving a middle finger to convention. Johnson tells them well but the way he wants to. I applaud him for that."—Splatterpunk Zine, reviewed by John Boden

"It's the rare writer who is able to straddle the line between literary and horror fiction. . . . Readers who find themselves drawn to [Entropy in Bloom] will likely believe that the author has indeed gotten away with something."—Zyzzyva

?Entropy in Bloom is an instant classic, a carefully curated manifesto whose main goal is to tell the world one of the brightest stars in indie lit is now too brilliant to remain hidden. . . . This collection should turn him into the writer everyone is talking about. These fifteen stories and one novella show a powerful imagination, a great talent for storytelling, writing chops that allow him to tackle any genre, and a flowing, dynamic voice that, if Johnson were a singer, would extend to an impressive eight octaves.??ElectricLit

Praise for Entropy in Bloom and Jeremy Robert Johnson:

?Johnson is a master of mood, seamlessly combining the literary with the grotesque. Horror fans will find much to chew on, and these stories will certainly reach a wider audience. Johnson deserves to be a household name, as this superb collection makes clear.? ?Publishers Weekly, starred review

?A perfect place to get acquainted with one of the darkest stars in the genre. . . . Johnson captures humanity?s absurdity, our grotesqueries, sometimes our triumphs, all the while pushing past the limits of reality, transforming it into something dark, and surreal, and unforgettable.??B&N Sci-Fi & Fantasy Blog, included in "The Best Horror Books of 2017"

?Showcases the best of the worst of Jeremy Robert Johnson. And by worst, I mean most gut-churning and nightmare inducing. . . . Perfectly paced and extremely creepy . . . will leave you pondering the deeper meaning of random acts of violence for days to come. Enjoy???LitReactor

?Johnson has been churning out literary, surreal, beautiful and repulsive word filth for more than ten years with his short fiction. . . . What links these stories is a sense of damage appraisal and bittersweet heart. Even in the most phantastic and otherworldly stories there is a sense of real, lived in hurt and longing that centers the more extraordinary decorative elements of each piece . . . he?s really talking about the monsters within us all.??DarkMoonDigest

"Exciting, unpredictable and feels slightly dangerous . . . free of the boundaries of conventional literature in ways you can't quite imagine. Entropy in Bloom is emotionally challenging, unpredictable and thoroughly original. I cannot say it enough: I've had a great time with the book."?Dead End Follies,/i>

"[Makes] readers and fellow authors scratch their heads while wondering "How the hell did he pull that off?" Crime, horror, bizarro, and everything in between; Johnson can do it and blow your mind in the process."?LitReactor

?These stories can be uncomfortable, difficult, unflinching, but they?re also always entertaining. Johnson writes with an energy that propels you through some very dark spaces indeed and into something profoundly unsettling but nonetheless human.?
?Brian Evenson, author of A Collapse of Horses and Last Days

?I've seen the future and it?s bizarre, it?s beautifully berserk, it?s Jeremy Robert Johnson.?
?Stephen Graham Jones, author of Mongrels

?A dazzling writer. Seriously amazing short stories. While I read them, they made time stand still.?
?New York Times bestselling author Chuck Palahniuk

?One of the most exciting voices in contemporary fiction. Jeremy Robert Johnson?s work has always tested the limits of both genre and literary fiction.?
?Bookslut

?Jeremy Robert Johnson is dancing to a way different drummer. He loves language, he loves the edge, and he loves us people. This is entertainment...and literature.?
?Jack Ketchum, author of The Girl Next Door and Off Season

?I?m a longtime fan of Johnson. A master of derangement, he?s been bringing it for years.?
?Laird Barron, author of The Beautiful Thing that Awaits Us All

?The people populating these stories are real and vital and you WILL care, deeply, about what becomes of them...and in JRJ?s harsh universe, baaaaad things happen. Often. Prepare thyself.?
?Craig Davidson, author of Rust and Bone and The Fighter

?What makes JRJ?s work stand out from his contemporaries? is the strange sense of empathy?in that regard he is not unlike David Foster Wallace?s wicked and perhaps deranged younger brother. Sometimes the horror is so understated that it?s deadly. JRJ has the ability to balance sheer humanity with sheer grotesquerie.?
?21C Magazine

?The guy?s a genius. Reminds me of William Gibson?the dark interest in altered states of consciousness, the unrelentingly furious forward movement, and the same kind of unlimited imagination.?
?Ben Loory, author of Stories for Nighttime and Some for the Day

?Jeremy Robert Johnson performs stand-up comedy for the gods. And their laughter is a marvelous, terrible thing. He?s the kind of post-Lovecraftian genius berserker who makes the Great Old Ones new again. As with Clive Barker, there is no glorious mutational eruption that Johnson can?t nail directly through your gawping mind?s eye.?
?John Skipp, New York Times bestselling author of Spore (with Cody Goodfellow) and The Bridge (with Craig Spector)

?In its most twisted moments, Johnson?s writing is too gleeful to pigeon-hole as strictly horror, and when he steps outside the gross-out game he transcends most other straight literary writers.?
?Verbicide

?Johnson weaves vivid and fascinatingly grotesque tales.?
?Bookgasm

?I don't know if Mr. Johnson sold his soul to the devil to give him this gift for nightmare imagery, but by god, this guy can write. Johnson excels at pathology and perversity. A confirmed weirdo and authentic writer of uncommon emotional depth who deserves to be watched.?
?Cemetery Dance

?Johnson is probably a few books away from doing for horror what Jonathan Lethem did for science fiction. Plain and simple? Forget horror; this is good fiction.?
?Girl on Demand

?Johnson can write horror, science fiction, crime, and Bizarro. Sometimes he does all of the above within the same story. He?s at once brutal and elegant, innovative and an immediate classic, ridiculously talented and an obvious perfectionist.?
?Horror Talk
?An excellent primer to Johnson?s work. . . . As varied as his stories might be, what?s captivating about them is Johnson?s ability to immediately establish us in their own little universe . . . We only need a few hints and we can smell the rust of it, feel the rough oxidation between our fingers. This is something that takes a deft touch and can be found in the greats of short-story writers.??HorrorTalk"Johnson writes powerful stories. It's an undeniable fact, but the thing that impresses me the most is his ability to humanize things so well . . . it's this that makes the collection so vivid and unique. Entropy in Bloom is a book that any reader of any genre can get into, and find something they'd enjoy."—PenBoysReview, 10/10

"With a collection like this there is no wrong way to jump in. All that matters is you do."—Clash Media

"I say again, brilliant. There is not a bad story in the bunch here. Every single one is an exercise in tight writing and language and giving a middle finger to convention. Johnson tells them well but the way he wants to. I applaud him for that."—Splatterpunk Zine, reviewed by John Boden

"It's the rare writer who is able to straddle the line between literary and horror fiction. . . . Readers who find themselves drawn to [Entropy in Bloom] will likely believe that the author has indeed gotten away with something."—Zyzzyva