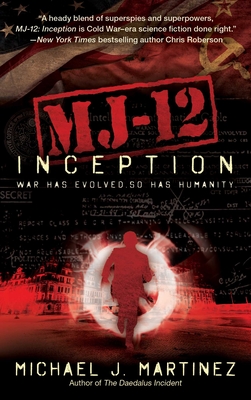 MJ-12 (Mass Market)
Inception: A MAJESTIC-12 Thriller
Night Shade, 9781597808996, 336pp.
Publication Date: June 6, 2017
Other Editions of This Title:
Hardcover (9/6/2016)
* Individual store prices may vary.
Description
A team of superhuman covert operatives emerges from the ashes of World War II in a Cold War era paranormal espionage thriller from acclaimed genre-bender Michael J. Martinez.

It is a new world, stunned by the horrors that linger in the aftermath of total war. The United States and Soviet Union are squaring off in a different kind of conflict, one that's fought in the shadows, where there are whispers of strange and mysterious developments.

Normal people across the United States have inexplicably gained paranormal abilities. A factory worker can heal the sick and injured. A schoolteacher bends emotions to her will. A car salesman alters matter with a simple touch. A former soldier speaks to the dying and gains their memories as they pass on.

They are the Variants, controlled by a secret government program called MAJESTIC-12 to open a new front in the Cold War.

From the deserts of Nevada to the palaces of Istanbul, the halls of power in Washington to the dark, oppressive streets of Prague, the Variants are thrown into a deadly game of shifting alliances. Amidst the seedy underbelly of nations, these once-ordinary Americans dropped in extraordinary circumstances will struggle to come to terms with their abilities as they fight to carve out a place for themselves in a world that may ultimately turn against them.

And as the MAJESTIC-12 program will soon discover, there are others out there like them, some with far more malevolent goals.
About the Author
Michael J. Martinez is a critically acclaimed author of historical fantasy and genre-blending fiction, including the Daedalus trilogy of Napoleonic-era space opera novels and the new MAJESTIC-12 series from Night Shade Books. He lives in New Jersey with his wife, daughter, two cats, and several chickens.
Praise For MJ-12: Inception: A MAJESTIC-12 Thriller…
Praise for MJ-12: Inception:

"A smart look at a Cold War in many ways even colder and scarier and deadlier than the one we barely survived."
—New York Times bestselling author Harry Turtledove

"A heady blend of super-spies and superpowers, MJ-12: Inception is Cold War-era science fiction done right. A taut thriller, and skillfully evocative."
—New York Times bestselling author Chris Roberson

"X-Men meets Mission: Impossible. Martinez takes a concept as simple as 'Super spies that are actually super' and comes away with a hit. Filled with compelling, well-rounded characters, MJ-12 is my new favorite spy series."
—Michael R. Underwood, author of Geekomancy and the Genrenauts series

"The Cold War becomes even more chilling as super-powered Americans are trained to become super-spies in Martinez's new alternate-history thriller. It's morally-complex, intense, and so steeped in the 1940s, you can smell the cigarette smoke."
—Beth Cato, author of Breath of Earth and The Clockwork Dagger

"MJ-12: Inception is a thriller that blends the best elements of Cold War-era spy stories, supernatural fantasy, and splashy pulp comics."
—B&N Sci-Fi & Fantasy Blog

"MJ-12: Inception is Michael J. Martinez doing what he does best: taking a selection of great genres and mashing them up into something fresh and exciting, and quite unlike anything you've read before . . . . Or to put it another way, it's like the X-Files and Heroes went back in time, dressed up in dinner jackets, lit a fuse, and jumped through a window to the theme from Mission: Impossible. Absolutely loved it."
—Fantasy Faction

"Martinez made a point to recognize the sacrifices made by those in the intelligence community to protect their nation . . . . the characters were all well-developed, their powers were imaginative, the twists weren't obvious and Martinez did a good job capturing the setting . . . . MJ-12: Inception was an enjoyable twist on the superhero genre and I look forward to seeing what happens next."
—Amazing Stories

"With MJ-12: Inception, Martinez weaves an intense tale of patriotism, Cold War politics, the U.S. spy network, and the nuances of human relationships which I simply couldn't put down."
—The Qwillery

"Martinez has me hooked, and I'm anxiously awaiting the next book in the trilogy—I imagine more Variants, more subterfuge, and more world-ending risks are to be revealed. It's good stuff."
—GeekDad

"MJ-12: Inception is both a complete stand alone adventure and a thrilling introduction to a richly reimagined Cold War spy-fi series. I eagerly await Michael J. Martinez's next novel featuring the Majestic 12."
—Mutt Café

Praise for Michael J. Martinez

"[Martinez] seamlessly blends popular elements from science fiction and fantasy, producing a work that raises the bar for both."
—Publishers Weekly (starred review for The Venusian Gambit)

Praise for MJ-12: Inception:

"A smart look at a Cold War in many ways even colder and scarier and deadlier than the one we barely survived."
—New York Times bestselling author Harry Turtledove

"A heady blend of super-spies and superpowers, MJ-12: Inception is Cold War-era science fiction done right. A taut thriller, and skillfully evocative."
—New York Times bestselling author Chris Roberson

"X-Men meets Mission: Impossible. Martinez takes a concept as simple as 'Super spies that are actually super' and comes away with a hit. Filled with compelling, well-rounded characters, MJ-12 is my new favorite spy series."
—Michael R. Underwood, author of Geekomancy and the Genrenauts series

"The Cold War becomes even more chilling as super-powered Americans are trained to become super-spies in Martinez's new alternate-history thriller. It's morally-complex, intense, and so steeped in the 1940s, you can smell the cigarette smoke."
—Beth Cato, author of Breath of Earth and The Clockwork Dagger

"MJ-12: Inception is a thriller that blends the best elements of Cold War-era spy stories, supernatural fantasy, and splashy pulp comics."
—B&N Sci-Fi & Fantasy Blog

"MJ-12: Inception is Michael J. Martinez doing what he does best: taking a selection of great genres and mashing them up into something fresh and exciting, and quite unlike anything you've read before . . . . Or to put it another way, it's like the X-Files and Heroes went back in time, dressed up in dinner jackets, lit a fuse, and jumped through a window to the theme from Mission: Impossible. Absolutely loved it."
—Fantasy Faction

"Martinez made a point to recognize the sacrifices made by those in the intelligence community to protect their nation . . . . the characters were all well-developed, their powers were imaginative, the twists weren't obvious and Martinez did a good job capturing the setting . . . . MJ-12: Inception was an enjoyable twist on the superhero genre and I look forward to seeing what happens next."
—Amazing Stories

"With MJ-12: Inception, Martinez weaves an intense tale of patriotism, Cold War politics, the U.S. spy network, and the nuances of human relationships which I simply couldn't put down."
—The Qwillery

"Martinez has me hooked, and I'm anxiously awaiting the next book in the trilogy—I imagine more Variants, more subterfuge, and more world-ending risks are to be revealed. It's good stuff."
—GeekDad

"MJ-12: Inception is both a complete stand alone adventure and a thrilling introduction to a richly reimagined Cold War spy-fi series. I eagerly await Michael J. Martinez's next novel featuring the Majestic 12."
—Mutt Café

Praise for Michael J. Martinez

"[Martinez] seamlessly blends popular elements from science fiction and fantasy, producing a work that raises the bar for both."
—Publishers Weekly (starred review for The Venusian Gambit)
or
Not Currently Available for Direct Purchase