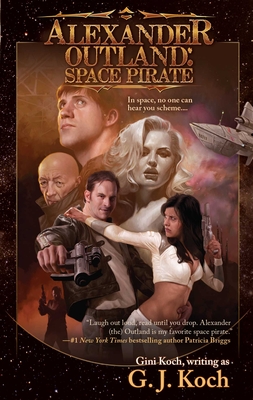 Alexander Outland (Mass Market)
Space Pirate
Night Shade, 9781597809016, 376pp.
Publication Date: June 6, 2017
Other Editions of This Title:
Paperback (5/29/2012)
* Individual store prices may vary.
Description
In space, nobody can hear you scheme. . . . Sometimes piracy just doesn't pay. Captain Alexander Outland of the Sixty-Nine (short for Space Vessel 3369, of course) is the best pilot in the galaxy. He's also a pirate, a smuggler, and loved and loathed by women in umpteen solar systems. His crew of strays and misfits includes an engineer of dubious sanity, a deposed planetary governor, an annoyingly unflappable Sexbot copilot, and a slinky weapons chief who stubbornly refuses to give the captain a tumble. Outland just wants to make a decent living skirting the law, but when an invisible space armada starts cutting into his business, he soon finds himself in hot water with the military, the mob, mad bombers, and an extended family of would-be conquerors. And that's not counting an occasionally telepathic spy.... Like any sensible scoundrel, he hates heroics. They're risky and they don't pay well. But to keep his ship and crew in one piece, and make time with a certain hard-to-get weapons chief, he might just have to make an exception—and save the galaxy despite himself!
"Laugh-out loud, read until you drop. Alexander (the) Outland is my favorite space pirate."
—New York Times bestselling author Patricia Briggs
About the Author
Gini Koch lives in the American Southwest, works her butt off (sadly, not literally) by day, and writes by night with the rest of the beautiful people. Among other projects, she is the author of the long-running Alien/Katherine "Kitty" Katt series (Touched by an Alien). Gini started writing as an excuse to stay up late playing on the computer while listening to rock music and mooning over pictures of hunky men. She's thrilled all that drooling has finally paid off.
Praise For Alexander Outland: Space Pirate…
"Laugh-out loud, read until you drop. Alexander (the) Outland is my favorite space pirate."
—New York Times bestselling author Patricia Briggs

"Fun! A good old fashioned sci if adventure tale that soars through its universe with the gleeful energy of an atomic rocket ship."
—A. Lee. Martinez.

"In the grand tradition of Harry Harrison's Stainless Steel Rat, GJ Koch brings us Captain Alexander Napoleon Outland. Alexander Outland:Space Pirate is a humorous romp with twists and turns aplenty. In what's sure to be the first of a long series of delightful adventures, Gini Koch introduces us to a ribald and vibrant crew taking the universe by storm, under the leadership of Alexander Outland—Space Pirate."
—Michael A. Stackpole.

"The most engaging rogue to hit the spaceways since the Stainless Steel Rat!"
—Sandy Mitchell, author of the Ciaphas Cain series.

"Like some twisted, exhilarating combination of a theme park and an orgy, Alexander Outland: Space Pirate is rocket-paced, sexy, thrilling, and fun, and no matter what direction you think it'll be going in, you're wrong. You might need a cold shower by the end, but you won't regret the ride."
—Jeffrey J. Mariotte, author of Cold Black Hearts and The Slab

"A fun read and an amusing vision of the happy-go-lucky pirate in space, desired by all women, working with the best misfit crew in the galaxy. There are strong echoes of Jack Sparrow, Harrison Ford and Errol Flynn in Alexander Outland. Author Gini Koch has a good ear for dialogue, a mind attuned to devious plots, and a nice argument for why this space pirate would love the beaches and bars of Marseille."
—T. Jackson King

"Alexander Outland is a stew of science fiction, comedy, action and adventure that nourishes the eyes, brain and funny bone."
—Kevin L. Donihe, author of House of Houses an

"Laugh-out loud, read until you drop. Alexander (the) Outland is my favorite space pirate."
—New York Times bestselling author Patricia Briggs

"Fun! A good old fashioned sci if adventure tale that soars through its universe with the gleeful energy of an atomic rocket ship."
—A. Lee. Martinez.

"In the grand tradition of Harry Harrison's Stainless Steel Rat, GJ Koch brings us Captain Alexander Napoleon Outland. Alexander Outland:Space Pirate is a humorous romp with twists and turns aplenty. In what's sure to be the first of a long series of delightful adventures, Gini Koch introduces us to a ribald and vibrant crew taking the universe by storm, under the leadership of Alexander Outland—Space Pirate."
—Michael A. Stackpole.

"The most engaging rogue to hit the spaceways since the Stainless Steel Rat!"
—Sandy Mitchell, author of the Ciaphas Cain series.

"Like some twisted, exhilarating combination of a theme park and an orgy, Alexander Outland: Space Pirate is rocket-paced, sexy, thrilling, and fun, and no matter what direction you think it'll be going in, you're wrong. You might need a cold shower by the end, but you won't regret the ride."
—Jeffrey J. Mariotte, author of Cold Black Hearts and The Slab

"A fun read and an amusing vision of the happy-go-lucky pirate in space, desired by all women, working with the best misfit crew in the galaxy. There are strong echoes of Jack Sparrow, Harrison Ford and Errol Flynn in Alexander Outland. Author Gini Koch has a good ear for dialogue, a mind attuned to devious plots, and a nice argument for why this space pirate would love the beaches and bars of Marseille."
—T. Jackson King

"Alexander Outland is a stew of science fiction, comedy, action and adventure that nourishes the eyes, brain and funny bone."
—Kevin L. Donihe, author of House of Houses an
or
Not Currently Available for Direct Purchase