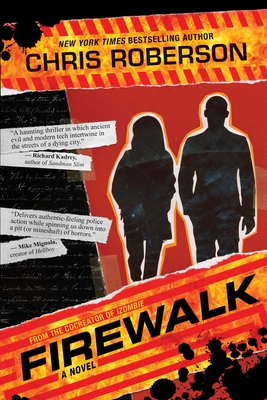 Firewalk (Paperback)
A Recondito Novel
Night Shade, 9781597809047, 360pp.
Publication Date: October 31, 2017
Other Editions of This Title:
Paperback (4/3/2018)
Hardcover (10/18/2016)
Compact Disc (10/4/2016)
MP3 CD (10/4/2016)
* Individual store prices may vary.
Description

A modern-day supernatural crime thriller set in a fictional West Coast city, from the New York Times bestselling author and cocreator of the comic-book-turned-hit-TV-show iZombie.

Izzie Lefevre was the newest investigator for the FBI's Behavioral Analysis Unit when she first came to Recondito, a coastal city that's been shrouded in mystery and legend for centuries. Local law enforcement had requested the Bureau's assistance in hunting a sword-wielding serial killer who'd left a dozen mutilated bodies in his wake. Patrick Tevake was a local homicide detective assigned to the taskforce, and together he and Izzie managed to track down and stop the killer before he claimed another victim.

Five years later, Izzie and Patrick remain haunted by what the killer said before he fell in a hail of gunfire. Izzie's ancestors were "mambos," voodoo priestesses who claimed to communicate with the dead and protect the faithful from evil spirits. Patrick's Polynesian great uncle told stories of Recondito's supernatural menaces that lurk in flame and shadow. The killer's last words have brought up a past both Izzie and Patrick thought they'd long since left behind, and neither has been able to shake the feeling that their case was never completely solved.

So when Patrick, now working with the vice squad to investigate a dangerous new street drug, discovers a connection between the street drug and the serial killer's victims, he realizes that their instincts were right: the threat is far from over. Reunited again, he and Izzie will discover that Recondito is a city of dark secrets, and their own pasts may be the key to unlocking them.
About the Author
Chris Roberson is the cocreator with artist Michael Allred of iZombie, the basis of the hit CW television series now in its third season, and the writer of several New York Times bestselling Cinderella miniseries set in the world of Bill Willingham's Fables. He is also the cocreator of Edison Rex with artist Dennis Culver and the cowriter of Hellboy and the B.P.R.D., Witchfinder, Rise of the Black Flame, and other titles set in the world of Mike Mignola's Hellboy. In addition to his numerous comics projects, Roberson has written more than a dozen novels and three dozen short stories and has been a finalist for the World Fantasy Award four times and twice for the John W. Campbell Award for Best New Writer, and he has won the Sidewise Award for Best Alternate History in both the Short Form and Novel categories. He lives with his daughter, two cats, and far too many books in Portland, Oregon.
Praise For Firewalk: A Recondito Novel…
Praise for Chris Roberson and Firewalk

"[A] gripping supernatural thriller . . . Terrific pacing and detailed police work mixed with supernatural elements will serve well horror and urban fantasy fans alike."
—Library Journal, starred review

"A novel that's part True Detective and part Lovecraft. . . . The plot is engaging, and Roberson really shines in building the relationships and dialogue. . . . The end will have horror fans ready for the sequel."
—Publishers Weekly

"Firewalk is as entertaining as can be, filled with humor and a satisfying depth of plot. The characters are skillfully crafted and demonstrate exceptional savvy without becoming implausible. Peering around the corners in Recondito is wicked good fun; Roberson's fantasy comics background . . . has prepared him to tell this tale of the occult with a marked sense of believability."
—Shelf Awareness, reviewed by Rob LeFebvre

"Lefevre, Tevake and their supporting cast, not to mention the fictional location Recondito, are compellingly drawn, and their pursuit of the current evil and attempt to finally understand the killer they stopped years ago strikes a nice balance between understandable skepticism and a justifiable (and life-saving) willingness to take what they find at face value. . . . memorably creepy and tense."—4.5 Stars
—a RT Book Reviews Top Pick, reviewed by Ian Mathers

"A haunting thriller in which ancient evil and modern tech intertwine in streets of a dying city—and where the darkness hides things much older and more frightening than the darkness itself."
—Richard Kadrey, New York Times bestselling author of Sandman Slim

"Smart, tough, and scary as hell. Roberson delivers authentic-feeling police action while spinning us down into a pit (or mineshaft) of horrors."
—Mike Mignola, creator of Hellboy

"Firewalk turns the police procedural on its ear. Roberson's Recondito is a simmering melting pot of diverse characters and long-buried evil. It's a compelling urban fantasy locale I look forward to returning to."
—Michael J. Martinez, author of The Daedalus Incident and MJ-12: Inception

"Fans of Douglas Preston and Lincoln Child's Agent Pendergast series will find a lot to love here, but Roberson takes things a few steps further: by introducing an inclusive cast of characters, and by bringing together Haitian Voodoo, ancient Mayan mythology, cosmology, and even a South Pacific cargo cult. If you're looking for a cop story with a heavy dose of the supernatural, Firewalk is the book for you."
—Matthew Sturges, author of Midwinter and The Office of Shadow

"Firewalk is X-Files for grownups: weird doings in Lovecraftian caverns, Mayan mythology coming to life, and more. A spine-tingling treat from a consummate pro."
—Dennis O'Flaherty, author of The Calorium Wars

"Chris Roberson is always surprising you because you thought you knew where he was going and what he was going to do, but his plots are always a bit deeper than you thought, the knife a bit sharper. In Firewalk, he twists that knife like a drill."
—Paul Tobin, author of Prepare To Die!

"A scorching thriller that expertly blends horror, science fiction, and urban fantasy, Firewalk is an excellent launch to what promises to be a spellbinding series."
—Richard Cox, author of The Boys of Summer

"Roberson's expertise as a television and comic-book writer adds a cinematic flair to his story."
—Kirkus Reviews


Praise for Chris Roberson and Firewalk

"[A] gripping supernatural thriller . . . Terrific pacing and detailed police work mixed with supernatural elements will serve well horror and urban fantasy fans alike."
—Library Journal, starred review

"A novel that's part True Detective and part Lovecraft. . . . The plot is engaging, and Roberson really shines in building the relationships and dialogue. . . . The end will have horror fans ready for the sequel."
—Publishers Weekly

"Firewalk is as entertaining as can be, filled with humor and a satisfying depth of plot. The characters are skillfully crafted and demonstrate exceptional savvy without becoming implausible. Peering around the corners in Recondito is wicked good fun; Roberson's fantasy comics background . . . has prepared him to tell this tale of the occult with a marked sense of believability."
—Shelf Awareness, reviewed by Rob LeFebvre

"Lefevre, Tevake and their supporting cast, not to mention the fictional location Recondito, are compellingly drawn, and their pursuit of the current evil and attempt to finally understand the killer they stopped years ago strikes a nice balance between understandable skepticism and a justifiable (and life-saving) willingness to take what they find at face value. . . . memorably creepy and tense."—4.5 Stars
—a RT Book Reviews Top Pick, reviewed by Ian Mathers

"A haunting thriller in which ancient evil and modern tech intertwine in streets of a dying city—and where the darkness hides things much older and more frightening than the darkness itself."
—Richard Kadrey, New York Times bestselling author of Sandman Slim

"Smart, tough, and scary as hell. Roberson delivers authentic-feeling police action while spinning us down into a pit (or mineshaft) of horrors."
—Mike Mignola, creator of Hellboy

"Firewalk turns the police procedural on its ear. Roberson's Recondito is a simmering melting pot of diverse characters and long-buried evil. It's a compelling urban fantasy locale I look forward to returning to."
—Michael J. Martinez, author of The Daedalus Incident and MJ-12: Inception

"Fans of Douglas Preston and Lincoln Child's Agent Pendergast series will find a lot to love here, but Roberson takes things a few steps further: by introducing an inclusive cast of characters, and by bringing together Haitian Voodoo, ancient Mayan mythology, cosmology, and even a South Pacific cargo cult. If you're looking for a cop story with a heavy dose of the supernatural, Firewalk is the book for you."
—Matthew Sturges, author of Midwinter and The Office of Shadow

"Firewalk is X-Files for grownups: weird doings in Lovecraftian caverns, Mayan mythology coming to life, and more. A spine-tingling treat from a consummate pro."
—Dennis O'Flaherty, author of The Calorium Wars

"Chris Roberson is always surprising you because you thought you knew where he was going and what he was going to do, but his plots are always a bit deeper than you thought, the knife a bit sharper. In Firewalk, he twists that knife like a drill."
—Paul Tobin, author of Prepare To Die!

"A scorching thriller that expertly blends horror, science fiction, and urban fantasy, Firewalk is an excellent launch to what promises to be a spellbinding series."
—Richard Cox, author of The Boys of Summer

"Roberson's expertise as a television and comic-book writer adds a cinematic flair to his story."
—Kirkus Reviews