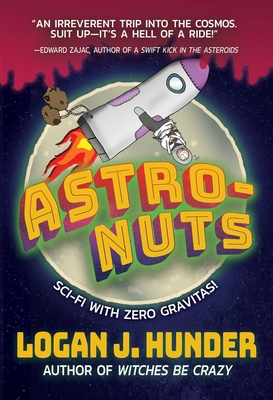 Astro-Nuts
Paperback

* Individual store prices may vary.
Other Editions of This Title:
Digital Audiobook (4/1/2019)
Compact Disc (4/2/2019)
MP3 CD (4/2/2019)
Description
Laser-sharp zingers and out-of-this-world puns pile up at an astronomical pace in this sci-fi spoof from the author of Witches Be Crazy. "Draws liberally from the grand tradition of Firefly, Monty Python, and Spaceballs."—Publishers Weekly

Never meddle with unidentified spying objects . . .

The year is: The Future. Mars and Earth are like that divorced couple who don't exactly like each other but have at least stopped fighting in public. Floating somewhere in between them, amid all the garbage and Gene Roddenberry's ashes, a transport vessel called the SS Jefferson is homeward bound. Its crew might have even made it on time for once, too…

Captain Cox is no stranger to encountering the odd pickle in space, but when a tantalizingly derelict ship crosses paths with the Jefferson, he unwittingly parks in the middle of a NASA-ty interplanetary squabble. Faced with a marauding Martian and a squad of snobby secret agents, Cox and crew embark on a mad scramble across the solar system, to save themselves from either murder-via-space rifle of imprisonment in the notorious Guantanamo Docking Bay. Maybe they'll also get around to dealing with the biological weapon that accidentally wound up in their fridge, too.

Join Logan J. Hunder (Witches be Crazy) in a riotously funny send-up of spaceships, space exploration, and all the stories we tell about both. Discover adventure, love, loss, gain, losing what was gained, gaining some of it back, and all the different ways the Outer Space Treaty can be violated.
Praise For Astro-Nuts…
Praise for Astro-Nuts:

"Draws liberally from the grand tradition of Firefly, Monty Python, and Spaceballs . . . the entire novel is about the laughs, which are plentiful. Space opera fans looking for something light and fluffy will find this suits perfectly."—Publishers Weekly

"An irreverent trip into the cosmos. Suit up—it's a hell of a ride!"—Edward Zajac, author of A Swift Kick in the Asteroids

Praise for Logan J. Hunder
 
"Hunder's engaging debut cleverly skewers traditional fantasy tropes with two seemingly unbeatable (and unconventional) protagonists, and the nonstop action will keep readers flipping the pages late into the night. Suggest to fans of Tom Holt who appreciate his mix of humor and imagination."
—Library Journal, starred review and Debut of the Month for July 2015

"Fast moving and original … This is a wild fantasy adventure."
—Piers Anthony, New York Times-bestselling author of the Xanth series

"Sometimes wry, sometimes laugh-out-loud hilarious, Logan J. Hunder's Witches Be Crazy skewers fantasy tropes and hoists them high on their own petard (whatever a "petard" is)."
—Kevin J. Anderson, New York Times-bestselling author of the Dan Shamble, Zombie PI series

"Hilarious! Not since Elvendude have I enjoyed anything so much."
—Sherrilyn Kenyon, #1 New York Times-bestselling author of Fantasy Lover and the Dark-Hunter series

"It's clever, it's entertaining, and it has its uproariously funny moments. . . I have no doubt that Witches Be Crazy will garner a lot of fans. . . this is the kind of book with 'dedicated cult following' written all over it, much like other parodic classics like Monty Python and the Holy Grail or The Princess Bride."
—The BiblioSanctum
Night Shade, 9781597809221, 384pp.
Publication Date: April 2, 2019
About the Author
Logan J. Hunder is a Canadian comedy writer who breaks into a wicked case of the shakes if he goes more than a half hour without making fun of something. He treats this rare self-diagnosed illness by rambling via text. His first novel, Witches Be Crazy, was published by Night Shade Books in 2015.
or
Not Currently Available for Direct Purchase