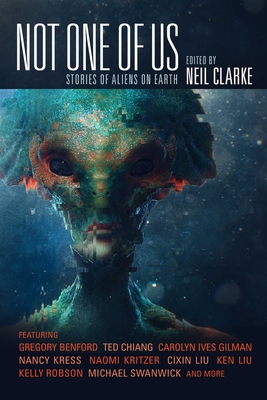 Not One of Us
Stories of Aliens on Earth
Paperback

* Individual store prices may vary.
Description
Mankind comes face to face with extraterrestrial life in this anthology from Clarkesworld publisher Neil Clarke. Here are stories that aren't afraid to tackle thorny issues like race, immigration, nationalism, religion, and politics.
Science fiction writers have been using aliens as a metaphor for the other for over one hundred years. Superman has otherworldly origins, and his struggles to blend in on our planet are a clear metaphor for immigration. Earth's adopted son is just one example of this "Alien Among Us" narrative.
There are stories of assimilation, or the failure to do so. Stories of resistance to the forces of naturalization. Stories told from the alien viewpoint. Stories that use aliens as a manifestation of the fears and worries of specific places and eras. Stories that transcend location and time, speaking to universal issues of group identity and its relationship to the Other. The table of contents includes:
Touring with the Alien by Carolyn Ives Gilman
Laws of Survival by Nancy Kress
At Play in the Fields by Steve Rasnic Tem
The Ants of Flanders by Robert Reed
Taking Care of God by Cixin Liu
Water Scorpions by Rich Larson
The Three Resurrections of Jessica Churchill by Kelly Robson
Men are Trouble by James Patrick Kelly
They Shall Salt the Earth with Seeds of Glass by Alaya Dawn Johnson
Bits by Naomi Kritzer
And Never Mind the Watching Ones by Keffy R. M. Kehrli
Dark Heaven by Gregory Benford
Nine-Tenths of the Law by Molly Tanzer
Five Stages of Grief After the Alien Invasion by Caroline M. Yoachim
Time of the Snake by A.M. Dellamonica
The Fear Gun by Judith Berman
Tendeléo's Story by Ian McDonald
The Choice by Paul McAuley
Passage of Earth by Michael Swanwick
Reborn by Ken Liu
Story of Your Life by Ted Chiang
These writers grapple both the best and worst aspects of human nature, and they do so in utterly compelling and entertaining ways.
Praise For Not One of Us: Stories of Aliens on Earth…
Praise for Neil Clarke's Anthologies with Night Shade Books
 
"Readers should savor the stories a few at a time to get the most out of Clarke's superior selections . . . but there are no inferior pieces here. This is a fine, thoughtful book."
—Publishers Weekly, starred review for Not One of Us
 
"Well-known SF authors grace this . . . top-notch selection of imaginative and thought-provoking stories."
—Kirkus Reviews, starred review for More Human Than Human
 
"Clarke's stellar reprint anthology explores the expansive variety of space exploration stories. . . . Outstanding works in which extreme environments bring out the best and worst of human nature."
—Publishers Weekly, Starred Review for The Final Frontier

"Twenty one fascinating tales from some of science fiction's new stars. The reprint collection is multicultural and diverse, with tales of all kinds and from some unusual places. . . . Many standouts in this one and likely something here for all sorts of different kinds of folks."
—Manhattan Book Review, 4.5/5 Stars for The Final Frontier
 
"This hefty anthology of imperial SF covers great space battles, small dramas within an empire, hopeless bureaucracy, and even living space stations, zooming in and out to capture every nuance . . . The diverse array of stories ensures that there's plenty of interest for any fan of large-scale SF." 
—Publishers Weekly on Galactic Empires

"Masterful editor Neil Clarke has assembled an exotic, bountiful treasure chest of reprint tales dedicated to that mode of SF that can arguably be said to constitute the very core of the field, the space opera."
—Asimov's on Galactic Empires
 
"Clarke has assembled a wide range of authors – from old masters like Robert Silverberg to more recent talents such as Aliette De Bodard – each offering a different take on the central premise. . . There isn't a bad piece amongst them . . . the Galaxy really is there for the taking."
—Starburst on Galactic Empires, reviewed by Alister Davison

"As editor Clarke points out in his introduction, when most people hear the term galactic empire, they immediately picture Darth Vader and Star Wars. But there is a long history of star-faring empires in the genre, with stories that imagine our human tendencies to explore and conquer among the stars. . . . The stories gathered here, all of which have appeared elsewhere, show the huge range of possibilities of the chosen theme." 
—Library Journal on Galactic Empires

"The first must-read anthology of the year, no question, is Neil Clarke's Galactic Empires, an ambitious (read: huge) collection of SF tales featuring far-flung confederations in the stars. The TOC is a who's-who of virtually everyone doing important work at short length in science fiction." 
—John O'Neil, Black Gate on Galactic Empires

"Brings together some of the best voices writing in the genre today. . . . a stunning collection of short fiction."
—WorldsInInk on Galactic Empires

"Readers should savor the stories a few at a time to get the most out of Clarke's superior selections . . . but there are no inferior pieces here. This is a fine, thoughtful book."—Publishers Weekly, starred review
Night Shade, 9781597809573, 608pp.
Publication Date: November 13, 2018
About the Author
Neil Clarke is the award-winning publisher and editor in chief of Clarkesworld magazine, winner of three Hugo Awards for Best Semiprozine. Night Shade Books publishes his annual The Best Science Fiction of the Year series, as well as a number of standalone themed anthologies including Galactic Empires, More Human than Human, and the Final Frontier.
or
Not Currently Available for Direct Purchase