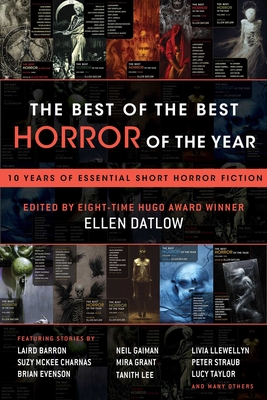 The Best of the Best Horror of the Year (Paperback)
10 Years of Essential Short Horror Fiction
Night Shade Books, 9781597809832, 432pp.
Publication Date: October 2, 2018
* Individual store prices may vary.
Description
***One of Publishers Weekly's "Most Anticipated Books of Fall 2018"*** A group of mountain climbers, caught in the dark, fight to survive their descent; in the British countryside, hundreds of magpies ascend into the sky, higher and higher, until they seem to vanish into the heavens; a professor and his student track a zombie horde in order to research zombie behavior; an all-girl riding school has sinister secrets; a town rails in vain against a curse inflicted upon it by its founders. For more than three decades, editor and anthologist Ellen Datlow, winner of multiple Hugo, Bram Stoker, and World Fantasy awards, has had her finger on the pulse of the horror genre, introducing readers to writers whose tales can unnerve, frighten, and terrify. This anniversary volume, which collects the best stories from the first ten years of her annual The Best Horror of the Year anthology series, includes fiction from award-winning and critically acclaimed authors Neil Gaiman, Livia Llewellyn, Laird Barron, Gemma Files, Stephen Graham Jones, and many more. TABLE OF CONTENTS:
Introduction--Ellen Datlow
Lowland Sea--Suzy McKee Charnas
Wingless Beasts--Lucy Taylor
The Nimble Men--Glen Hirshberg
Little America--Dan Chaon
Black and White Sky--Tanith Lee
The Monster Makers--Steve Rasnic Tem
Chapter Six--Stephen Graham Jones
In a Cavern, in a Canyon--Laird Barron
Allochthon--Livia Llewellyn
Shepherds' Business--Stephen Gallagher
Down to a Sunless Sea--Neil Gaiman
The Man from the Peak--Adam Golaski
In Paris, In the Mouth of Kronos--John Langan
The Moraine--Simon Bestwick
At the Riding School--Cody Goodfellow
Cargo--E.Michael Lewis
Tender as Teeth--Stephanie Crawford & Duane Swierczynski
Wild Acre--Nathan Ballingrud
The Callers--Ramsey Campbell
This Stagnant Breath of Change--Brian Hodge
Grave Goods--Gemma Files
The Ballad of Ballard and Sandrine--Peter Straub
Majorlena--Jane Jakeman
The Days of Our Lives--Adam L. G. Nevill
You Can Stay All Day--Mira Grant
No Matter Which Way We Turned--Brian Evenson
Nesters--Siobhan Carroll
Better You Believe--Carole Johnstone
About the Authors
Acknowledgment of Copyright
About the Editor

About the Author
Ellen Datlow has been editing science fiction, fantasy, and horror short fiction for more than thirty years. She was the fiction editor of Omni magazine and Sci Fiction and has edited almost one hundred anthologies. Datlow has also won lifetime achievement awards from three prominent genre organizations, and currently acquires short fiction for Tor.com.