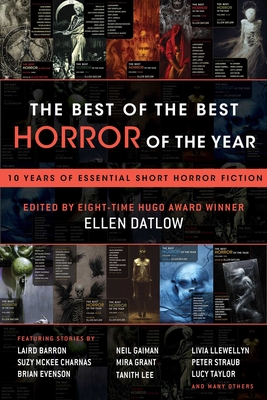 The Best of the Best Horror of the Year (Paperback)
10 Years of Essential Short Horror Fiction
Night Shade, 9781597809832, 432pp.
Publication Date: October 2, 2018
Other Editions of This Title:
Pre-Recorded Audio Player (11/6/2018)
* Individual store prices may vary.
Description
Here is the best of the best horror—from Laird Barron, Neil Gaiman, Peter Straub, and many more!

For more than three decades, Ellen Datlow has been at the center of horror. Bringing you the most frightening and terrifying stories, Datlow always has her finger on the pulse of what horror readers crave. In this anniversary edition, Datlow brings back her favorite stories of the series' last decade in a special edition encompassing highlights from each edition of the work.

Encompassed in the pages of The Best Horror of the Year have been such illustrious writers as: Neil Gaiman, Kim Newman, Stephen King, Linda Nagat, Laird Barron, Margo Lanagan, And many others

With each passing year, science, technology, and the march of time shine light into the craggy corners of the universe, making the fears of an earlier generation seem quaint. But this light creates its own shadows. The Best Horror of the Year chronicles these shifting shadows. It is a catalog of terror, fear, and unpleasantness as articulated by today's most challenging and exciting writers. And in this anniversary edition, we share the most important stories which have been covered in the last decade of horror writing.

TABLE OF CONTENTS:

Introduction—Ellen Datlow
Lowland Sea—Suzy McKee Charnas
Wingless Beasts—Lucy Taylor
The Nimble Men—Glen Hirshberg
Little America—Dan Chaon
Black and White Sky—Tanith Lee
The Monster Makers—Steve Rasnic Tem
Stephen Graham Jones
In a Cavern, in a Canyon—Laird Barron
Allochthon—Livia Llewellyn
Shepherds' Business—Stephen Gallagher
Down to a Sunless Sea—Neil Gaiman
The Man from the Peak—Adam Golaski
In Paris, In the Mouth of Kronos—John Langan
The Moraine—Simon Bestwick
At the Riding School—Cody Goodfellow
Cargo—E.Michael Lewis
Tender as Teeth—Stephanie Crawford & Duane Swierczynski
Wild Acre—Nathan Ballingrud
The Callers—Ramsey Campbell
This Stagnant Breath of Change—Brian Hodge
Grave Goods—Gemma Files
The Ballad of Ballard and Sandrine—Peter Straub
Majorlena—Jane Jakeman
The Days of Our Lives—Adam L. G. Nevill
You Can Stay All Day—Mira Grant
No Matter Which Way We Turned—Brian Evenson
Nesters—Siobhan Carroll
Better You Believe—Carole Johnstone
About the Author
Ellen Datlow has been editing science fiction, fantasy, and horror short fiction for more than thirty years. She was the fiction editor of Omni magazine and Sci Fiction and has edited more than fifty anthologies. Datlow has also won lifetime achievement awards from three prominent genre organizations, and currently acquires short fiction for Tor.com.
Praise For The Best of the Best Horror of the Year: 10 Years of Essential Short Horror Fiction…
Praise for The Best of the Best Horror of the Year:

"Edited by the venerable queen of horror anthologies, Ellen Datlow . . . The stories in this collection feel both classic and innovative, while never losing the primary ingredient of great horror writing: fear."
—The New York Times

"A survey of some of the best horror writing of the last decade. . . . highly recommended for anyone interested in contemporary horror and dark fantasy, as well as anyone looking for a collection of some of the best and most horrifying short fiction currently available."
—Booklist(starred review)

"A stunning and flawless collection that showcases the most terrifyingly beautiful writing of the genre. Datlow's palate for the fearful and the chilling knows no genre constraint, encompassing the undead, the supernatural, and the cruelty perpetrated by ordinary humans. Exciting, literary, and utterly scary, this anthology is nothing short of exceptional."
—Publishers Weekly(starred review)

"A decade of celebrating the darkest gems of the genre as selected by Hugo-winning editor Ellen Datlow, whose name, by this point, is almost synonymous with quality frights . . . [and] contributed by a murderer's row of horror authors. . . . Essential."
—B&N Sci-Fi and Fantasy Blog, "Our Favorite Science Fiction & Fantasy Books of 2018"

"With the quality ranging from very good, to fantastic, to sublime, there just isn't the space to discuss them all.... If I need to make a pronouncement?based on Datlow's fantastic distillation of the genre?it's that horror is alive, well, and still getting under people's skin. If you have even a vague interest in dark fiction, then pick up this book."
—Ian Mond, Locus
"Datlow's survey of the first decade of her Best Horror of the Year series is also an argument about the field's major talents and trends. Its contents make a compelling case for the robustness of the field, a condition Dat­low herself has done much to nourish."—Locus, "Horror in 2018" by John Langan
Praise for Ellen Datlow and The Best Horror of the Year Series:

"Award-winning editor Ellen Datlow has assembled a tasty collection of twenty one terrifying and unsettling treats. In addition to providing excellent fiction to read, this is the perfect book for discovering new authors and enriching your life through short fiction."
—Kirkus Reviews

"For more than three decades, Ellen Datlow has been at the center of horror. Bringing you the most frightening and terrifying stories, Datlow always has her finger on the pulse of what horror fans crave. . . . and the anthologies just keep getting better and better. She's an icon in the industry."
—Signal Horizon

"Datlow's The Best Horror of the Year series is one of the best investments you can make in short fiction. The current volume is no exception."
—Adventures Fantastic

"As usual, Datlow delivers what she promises, 'the best horror of the year,' whether it's written by the famous (Neil Gaiman) or the should-be famous (Laird Barron and many others)."
—Washington Post

"You just can't have a list of recommended speculative anthologies without including an Ellen Datlow anthology. It's. Not. Possible. The line-up in The Best Horror of the Year Volume Eight is absolutely stupendous, featuring the most frighteningly talented authors in horror fiction."
—Tor.com

"Once again, [Ellen Datlow supplies] an invaluable book, featuring excellent short fiction and, in addition, providing as always precious information about what happened in the horror field last year."
—Mario Guslandi, British Fantasy Society

Praise for Ellen Datlow and The Best Horror of the Year Series:

"Award-winning editor Ellen Datlow has assembled a tasty collection of twenty one terrifying and unsettling treats. In addition to providing excellent fiction to read, this is the perfect book for discovering new authors and enriching your life through short fiction."—Kirkus Reviews

"For more than three decades, Ellen Datlow has been at the center of horror. Bringing you the most frightening and terrifying stories, Datlow always has her finger on the pulse of what horror fans crave. . . . and the anthologies just keep getting better and better. She's an icon in the industry."—Signal Horizon

"Datlow's The Best Horror of the Year series is one of the best investments you can make in short fiction. The current volume is no exception."—Adventures Fantastic

"As usual, Datlow delivers what she promises, 'the best horror of the year,' whether it's written by the famous (Neil Gaiman) or the should-be famous (Laird Barron and many others)."
—Washington Post

"You just can't have a list of recommended speculative anthologies without including an Ellen Datlow anthology. It's. Not. Possible. The line-up in The Best Horror of the Year Volume Eight is absolutely stupendous, featuring the most frighteningly talented authors in horror fiction."—Tor.com

"Once again, [Ellen Datlow supplies] an invaluable book, featuring excellent short fiction and, in addition, providing as always precious information about what happened in the horror field last year."—Mario Guslandi, British Fantasy Society