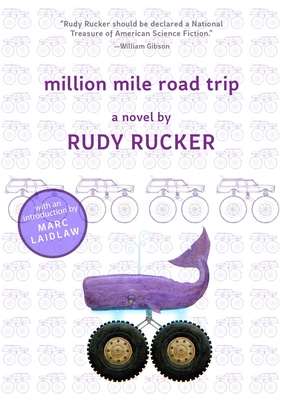 Million Mile Road Trip
Paperback

* Individual store prices may vary.
Other Editions of This Title:
Hardcover (5/7/2019)
Description
One of the Barnes & Noble Sci-Fi & Fantasy Blog's Best of May 2019!

One of The Verge's 10 New Science Fiction and Fantasy Books to Check Out in May!

In his first new novel since 2013, cyberpunk pioneer Rudy Rucker offers his own smart, hilarious, and uniquely gnarly science fiction version of the classic road-trip story.

When a seemingly-innocent trumpet solo somehow opens a transdimensional connection to Mappyworld, a parallel universe containing a single, endless plain divided by ridges into basin-like worlds, three California teens find themselves taken on a million mile road trip across a landscape of alien civilizations in a beat-up, purple 80s wagon . . . with a dark-energy motor, graphene tires and quantum shocks, of course. Their goal? To stop carnivorous flying saucers from invading Earth. And, just maybe, to find love along the way.

Million Mile Road Trip is a phantasmagoric roller-coaster ride—mind warpingly smart and wildly funny, with a warmly beating heart.

Night Shade Books' ten-volume series with Rudy Rucker collects nine of the brilliantly weird novels for which the mathematician-turned-author is known, as well as a tenth, never-before-published book, Million Mile Road Trip. We're proud to collect in one place so much of the work of this influential figure in the early cyberpunk scene, and to share Rucker's fascinating, unique worldview with an entirely new generation of readers.
Praise For Million Mile Road Trip…
Praise for Million Mile Road Trip:
 
"Tipping his hat to Thomas Pynchon, Jack Kerouac, and Douglas Adams, Rucker immerses readers in a fantastical roadtrip adventure that's a wild ride of unmitigated joy. . . . he ties everything together with internal consistency, playful use of language that keeps his ideas alien yet accessible, and a solid grounding in fourth-dimensional math. This wacky adventure is a geeky reader's delight."—Publishers Weekly, starred review

"One of those journey-means-more-than-the-destination kind of things — a true road trip novel — with Rucker just letting it all hang out . . . you just jump in and hang on, warmed by the goofball joy of it all, buoyed up by the high, jazz-cat bebop of the language, the glazed stoner rhythms. And by the end of it, your mind will be inevitably expanded—open to the possibility of almost anything." —Jason Sheehan, NPR
 
"Rucker has outdone himself in creating the most bizarre and surreal and overstuffed cosmic ecology of his career. The vast majority of the concepts are brand new. And the abundance of alien characters is the richest yet of his oeuvre. Yes, it's all obvious now—Rucker is Lennon & McCartney rolled up into one."—Paul Di Filippo, Locus

"Given all that's come and gone in science fiction, Rucker's Million Mile Road Trip brings us to some very fresh territory."—Electric Review
 
"A trippy adventure that would make Gulliver and Candide's heads spin."—Amazing Stories
 
"Jack Kerouac may have his name in the canons of literature as 'that guy who wrote the ultimate road trip book', but I daresay that for as dynamic and shifting as On the Road is, Million Mile Road Trip runs through the cosmos and back in the same time without losing any of its humanity. . . . Do yourself a favor if you haven't read Rucker, light a candle for the saint and buy Million Mile Road Trip. It will wash away the sins of the mediocre, derivative material flooding the market today and cleanse your science fiction soul."—Speculiction
 
"Million Mile Road Trip is unlike any journey you've ever been on. Rucker takes the wheel and slams through barriers into a world that bursts with originality and inventiveness. I'm new to Rucker's work and this surreal experience makes me want to stop what I'm doing and read everything he's written in a feverish marathon. . . . Overall, it's impossible not to love Million Mile Road Trip. With a wild cast of characters, an alien world that boggles the mind, and extremely spot-on writing, Rucker has created a masterpiece that must be experienced."—Reviews & Robots
 
Praise for Rudy Rucker:
 
"Rudy Rucker should be declared a National Treasure of American Science Fiction. Someone simultaneously channeling Kurt Gödel and Lenny Bruce might start to approximate full-on Ruckerian warp-space, but without the sweet, human, splendidly goofy Rudy-ness at the core of the singularity." —William Gibson 

"Rucker's writing is great like the Ramones are great: a genre stripped to its essence, attitude up the wazoo, and cartoon sentiments that reek of identifiable lives and issues. Wild math you can get elsewhere, but no one does the cyber version of beatnik glory quite like Rucker. " —New York Review of Science Fiction 

"For some two decades now, since the publication of his first novel, White Light, Rucker has combined an easygoing, trippy style influenced by the Beats with a deep engagement with knotty (or 'gnarly,' to employ one of his favorite terms) intellectual conceits, based mainly in mathematics. In the typical Rucker novel, likably eccentric characters—who run the gamut from brilliant to near-certifiable—encounter aspects of the universe that confirm that life is weirder than we can imagine. " —The Washington Post 

"Rudy Rucker is the most consistently brilliant imagination working in SF today. " — Charles Stross, author of The Laundry Files 

"Reading a Rudy Rucker book is like finding Poe, Kerouac, Lewis Carroll, and Philip K. Dick parked on your driveway in a topless '57 Caddy . . . and telling you they're taking you for a RIDE. The funniest science fiction author around. " —Sci-Fi Universe 

"Rucker [gives you] more ideas per chapter than most authors use in an entire novel. " —San Francisco Chronicle 
Night Shade, 9781597809917, 504pp.
Publication Date: May 7, 2019
About the Author
Rudy Rucker is a writer and a mathematician who worked for twenty years as a Silicon Valley computer science professor. He is regarded as contemporary master of science-fiction, and received the Philip K. Dick award twice. His thirty published books include both novels and non-fiction books on the fourth dimension, infinity, and the meaning of computation. A founder of the cyberpunk school of science-fiction, Rucker also writes SF in a realistic style known as transrealism, often including himself as a character. He lives in the San Francisco Bay Area.