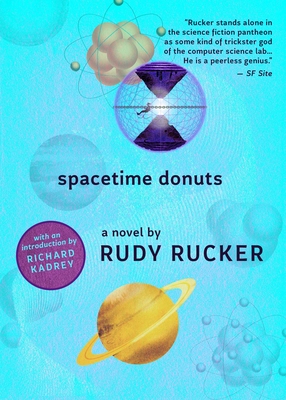 Spacetime Donuts
Paperback

* Individual store prices may vary.
Description
"Ricker stands alone in the science fiction pantheon as some kind of trickster god of the computer science lab…. He is a peerless genius."—SF Site

Rudy Rucker's early cyberpunk novel mixes a unique vision of a future with hippie humor, true love, and gonzo sensibilities.

In the future, society is run by a computer, Phizwiz; America is simply Us, a collection of Users known as Drones and Dreamers, near-automatons whose every need is provided for. But Phizwiz lacks creativity, and its vapid entertainment is becoming unfulfilling, especially for curious young Vernor Maxwell.

Seeking to add a creative soul to Phizwiz, a hard-partying elite has learned how to plug their minds into the computer. Joining them, Vernor finds a way to build a scale-ship—and becomes an incredible shrinking man. He soon tunnels down below the atomic level and finds himself at the intergalactic top—with the power to smash the machine, once and for all. . . .

Night Shade Books' ten-volume series with Rudy Rucker collects nine of the brilliantly weird novels for which the mathematician-turned-author is known, as well as a tenth, never-before-published book, Million Mile Road Trip. We're proud to collect in one place so much of the work of this influential figure in the early cyberpunk scene, and to share Rucker's fascinating, unique worldview with an entirely new generation of readers.
Night Shade, 9781597809979, 240pp.
Publication Date: July 2, 2019
About the Author
Rudy Rucker is a writer and a mathematician who worked for twenty years as a Silicon Valley computer science professor. He is regarded as contemporary master of science-fiction, and received the Philip K. Dick award twice. His thirty published books include both novels and non-fiction books on the fourth dimension, infinity, and the meaning of computation. A founder of the cyberpunk school of science-fiction, Rucker also writes SF in a realistic style known as transrealism, often including himself as a character. He lives in the San Francisco Bay Area.
or
Not Currently Available for Direct Purchase