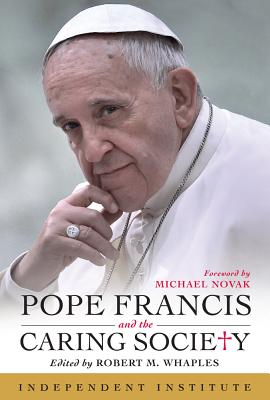 Pope Francis and the Caring Society (Hardcover)
Independent Institute, 9781598132878, 256pp.
Publication Date: September 1, 2017
* Individual store prices may vary.
Description
Pope Francis and the Caring Society is a thoughtful exploration of the Pope's earnest call for a dialogue on building a truly compassionate society. Francis's fervent support for uplifting the poor and protecting the environment has inspired far-reaching discussions worldwide: Do capitalism and socialism have positive or negative social consequences? What is the most effective way to fight poverty? And what value does a religious perspective offer in addressing moral, political, and economic problems?
Pope Francis and the Caring Society is an indispensable resource for consideration of these vital questions. Edited by Robert M. Whaples, with a foreword by Michael Novak, the book provides an integrated perspective on Francis and the issues he has raised, examining the intersection of religion, politics, and economics. Readers will discover important historical and cultural context for considering Francis's views, along with alternative solutions for environmental preservation, a defense of Francis's criticism of power and privilege, a case for market-based entrepreneurship and private charity as potent tools for fighting poverty, and an examination of Francis's philosophy of the family. Pope Francis and the Caring Society is essential reading for anyone interested in creating a better, more caring, and prosperous world.
About the Author
Robert M. Whaples is a Research Fellow at the Independent Institute, Co-Editor for The Independent Review, Professor of Economics at Wake Forest University, Director for EH.NET, and a member of the Board of Advisors for the Center on Culture and Civil Society.
Praise For Pope Francis and the Caring Society…
"We are all called to serve and care humbly for others, especially those most in need, but how we do so is crucial in guiding our moral responsibility. Firmly rooted in our Christian tradition, the incisive and timely book, Pope Francis and the Caring Society, carefully examines this vital issue by applying natural-law ethical and economic principles. Instead of command societies, cooperative, virtuous systems of enterprise, creativity, and charity are crucial to uplift people out of poverty, marginalization, and hopelessness; dignify people as purposeful beings through work and families; protect our environment for future generations; and bring us all into closer harmony with one another and to God." —Michael C. Barber, S.J., Bishop, Roman Catholic Diocese of Oakland, California
"The important book Pope Francis and the Caring Society makes a crucial point: It is not enough to have good intentions. How one attempts to fulfill them may override." —Rodney Stark, Distinguished University Professor, Social Sciences; Co-Director, the Institute for Studies of Religion, Baylor University
"The authority of the Pope is regarded by many as grounded in essentially spiritual sources of wisdom and inspiration. Non-Catholics may stand aloof to such considerations but nonetheless acknowledge the great influence of papal thought on the social and moral dimensions of our time. In light of this, the Pope's teaching warrants respectful but critical appraisal and receives it in the important book, Pope Francis and the Caring Society. If what the Pope teaches is influential, competent critics must test the teaching, often under the light of history. Under that light, Pope Francis's blueprint for 'caring' draws support from the notoriously failed theories on which socialism erects barriers to human freedom, creativity, and well-being." —Daniel N. Robinson, Faculty Fellow of Philosophy, Linacre College, University of Oxford; Distinguished Professor Emeritus, Philosophy, Georgetown University
"At a time when those today most responsible for transmitting Catholic social teaching need urgently to be reminded of some cause-and-effect realities essential to it, Pope Francis and the Caring Society provides us with many necessary reminders, readably and soundly." —John M. Finnis, Biolchini Family Professor of Law, The Law School, University of Notre Dame
"Pope Francis and the Caring Society is a brilliant book laying out both Christian and economic principles side by side in dialogue with Pope Francis's Laudato si'. The authors are careful to lay empirical data alongside the claims and historical experiences of Pope Francis and current efforts to help the poor, in which they share a common goal. The various chapters contain a wealth of history, theory and facts in the context of the Christians' call to serve the poor. Committed Christians who are nonetheless neophytes to economic theory, like myself, will get a thorough education in economics and reality. It is a timely and critical book for our age and for anyone who seriously wants to understand and participate in effectual service to the poor." —Mary S. Poplin, Professor, Educational Studies, Claremont Graduate University; author, Is Reality Secular?
"Pope Francis and the Caring Society offers novel, balanced, and constructively critical insights into the historical interpretations and empirical assumptions which have informed many of the Pope's most important pronouncements on economic development, environmental protection, and other issues. On topics ranging from the Pope's precepts regarding how to strengthen the family to his prescriptions for how best to promote charitable giving, reduce poverty, and cope with climate change, this volume is hardly 'for Catholics only,' and it will stimulate and challenge readers of diverse intellectual, theological, and ideological stripes." —John J. DiIulio, Jr., Frederic Fox Leadership Professor of Politics, Religion, and Civil Society and Professor, Political Science, University of Pennsylvania; first Director, White House Office of Faith-Based and Community Initiatives
"Pope Francis and the Caring Society responds to Pope Francis's call for dialog with a clarion critique of redistributive bromides and bureaucracies. Grounded in the Judeo-Christian principles of liberty, subsidiarity, and civic virtue, this luminous work shines through and shrivels the sanctimonious smog of socialist levelers who wreak demoralization and poverty wherever they rule." —George Gilder, bestselling author, Wealth and Poverty, The Spirit of Enterprise, Microcosm, Knowledge and Power, and other books
"In a manner graceful and civil—and with a proper respect for the Holy Father—Pope Francis and the Caring Society speaks some bracing truths about economics that Pope Francis, with all his large, encompassing nature, does not seem to understand. In that respect, the authors not only teach lessons that all of us should know; they also show the deep strength of the body of the Church: they treat the Holy Father with reverence and they are inclined to put the most charitable constructions on his sweeping commentaries on inequality and capitalism. The Pope's concern for the caring society and the uplifting of the poor is a concern that the authors share. But they also respect truth, and they see no conflict for Christians to convey to Pope Francis the serious things that he must understand when he has the attention of the world for his commentaries. What he doesn't understand are the pitfalls of a 'managed economy,' a scheme of political control that purports to rescue the poor, but delivers instead an economy of rationing, shortages, a diminished standard of living and the pervasiveness of political controls. Some of this misunderstanding may be traced to the Pope's lifetime spent in the 'crony capitalism' and 'corporatism' of Argentina. But the volume, in a generous spirit, finds hope that Francis will come to understand far more about the forces at work in the economy as he simply comes to know more about a larger world, extending far beyond his native ground. Pope Francis and the Caring Society could not have come at a more timely moment, and in tone and substance, it delivers a worldly lesson that more of the world needs to know." —Hadley P. Arkes, Edward N. Ney Professor of Jurisprudence and American Institutions Emeritus, Amherst College; Founder and Director, James Wilson Institute on Natural Rights and the American Founding
"Pope Francis and the Caring Society is a rich and engaging discussion of the role of religion in civil society. The book helps establish a foundation for productive and mutually beneficial dialogue between supporters and critics of Pope Francis's economic policies. Highly recommended!" —Peter G. Klein, W. W. Caruth Chair, Professor of Entrepreneurship, and Senior Research Fellow, John F. Baugh Center for Entrepreneurship and Free Enterprise, Hankamer School of Business, Baylor University
"It is not counter-intuitive to suggest that the superbly conceived, clear, cogent, and convincing book, Pope Francis and the Caring Society, introduced by the economist-theologian Michael Novak, has the potential to reconcile the distinctive and contrasting modalities for human flourishing propagated by Pope Francis and advocated by free-market economists aiming to liberate further millions of people from debilitating poverty. The axioms of free-market economics are simple, straightforward, and un-charismatic. Cast in a missionary key, Christian evangelization is loving, affirming, and hopeful. Would that these distinctive and contrasting modalities for human flourishing be reconciled by friendly and truthful intellectual exchange—by the grace of God." —Herman J. Belz, Professor Emeritus of History, University of Maryland
"The dialogue that the book Pope Francis and the Caring Society has initiated is of great importance. The authors, citing numerous examples from world history, assert a fundamental economic truth: that societies with open markets, private property, democratic accountability of public officials, and the rule of law are superior at promoting human flourishing to societies where centralized planning, collective ownership of the means of production and state control over economic activity prevail. That is, democratic capitalism has been shown by history to be superior to socialist collectivism. We economists have known this for some time now, but it is a truth worth reiterating. And yet, it is not the only truth. And this is why the dialogue which Pope Francis has invited, and which this impressive volume pursues is so crucial. For, the fact is that modern economics is incomplete. It shows us how to get more of what we want, but it cannot teach us what we should want. It says little about our obligations to the poor, to the refugee, or to future generations. It is silent on the soul-corrupting influences of naked materialism. It concerns itself with means, not with ends. And yet, as Pope Francis has made clear, a single-minded focus on profit and loss is a profoundly impoverished way of thinking about how we should live together in society. Such a focus lacks moral resonance and spiritual depth. Thus, this dialogue between our spiritual imperatives and our economic realities must continue. I am confident it will." —Glenn Cartman Loury, Merton P. Stoltz Professor of the Social Sciences, Department of Economics, Brown University