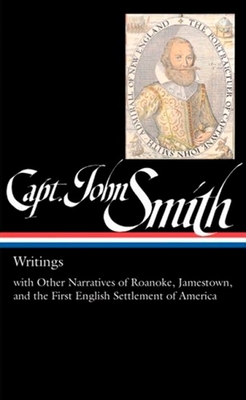 Captain John Smith
Writings (LOA #171): with Other Narratives of the Roanoke, Jamestown, and the First English Settlement of America
Hardcover

* Individual store prices may vary.
Description
One of the truly legendary figures of American history, the soldier, explorer, and colonist Captain John Smith was a vivid and prolific chronicler of the beginnings of English settlement in the New World. This Library of America volume brings together seven of his works, along with sixteeen additional narratives by other writers, that recount firsthand the tragic, harrowing, and dramatic events of the settlement of Roanoke and Jamestown.

A founder of Jamestown in 1607, Smith exhibited the courage, determination, and leadership that all proved crucial to its survival. A True Relation tells of the colony's perilous first year, while The Proceedings and The Generall Historie continue the story of its struggle to survive and prosper. A Description of New England and New Englands Trials describes Smith's exploration of the northern coast and the prospects for its settlement. In The True Travels Smith recalls his adventures as a soldier in Eastern Europe and his amazing escape from Turkish slavery. Advertisements for the Unexperienced Planters, his last book, is a critical examination of the successes and failures of the English colonial enterprise. Written in a consistently lively style, Smith's works are filled with suspense, astonishment, and keen observations of American Indian cultures and New World landscapes.

The 16 additional narratives include accounts of the "Lost Colony" of Roanoke, the horrific "starving time" at Jamestown, and a shipwreck off Bermuda. Amplifying and sometimes challenging Smith's version of events, these narratives capture the fear and fascination of early encounters with the Indians; the brutality, desperation, and ingenuity of settlers facing extreme hardship; the complex interplay of feuds and rivalries, both between the English and the Powhatan Indians and within the colony itself; and the enduring story of Pocahontas, who came to occupy a unique place between two cultures. Included in the volume are forty-four pages of contemporary drawings, fifteen of them full-color illustrations by John White.

LIBRARY OF AMERICA is an independent nonprofit cultural organization founded in 1979 to preserve our nation's literary heritage by publishing, and keeping permanently in print, America's best and most significant writing. The Library of America series includes more than 300 volumes to date, authoritative editions that average 1,000 pages in length, feature cloth covers, sewn bindings, and ribbon markers, and are printed on premium acid-free paper that will last for centuries.
Library of America, 9781598530018, 1200pp.
Publication Date: March 22, 2007
About the Author
John Smith (c.1580-1631) was an English soldier, explorer, and author and one of the major actors in and advocates for the establishment of English colonies in North America.
or
Not Currently Available for Direct Purchase