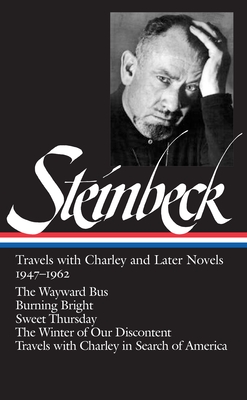 John Steinbeck
Travels with Charley and Later Novels 1947-1962 (LOA #170): The Wayward Bus / Burning Bright / Sweet Thursday / The Winter of Our Discontent / Travels with Charley in Search of America (Library of America John Steinbeck Edition #4)
Hardcover

* Individual store prices may vary.
Description
John Steinbeck was never content to repeat himself, and his restless search for new forms and fresh subject matter is fully evident in the books of his later years. This volume collects four novels that exhibit the full range of his gift, along with a travel book that has become one of his most enduringly popular works.

In The Wayward Bus (1947), Steinbeck leads a group of ill-matched passengers representing a spectrum of social types and classes, stranded by a washed-out bridge, on a circuitous journey that exposes cruelties, self-deceptions, and unsuspected moral strengths. The tone ranges from boisterous comedy to trenchant satirical observation of postwar America. Burning Bright (1950), an allegory set against shifting backgrounds (circus, sea, farm) and revolving around the fear of sterility and the desire for self-perpetuation, marks Steinbeck's involvement with the drama in its fusion of the forms of novel and play.

Sweet Thursday (1954) marks Steinbeck's return, in a mood of sometimes frothy comedy, to the characters and milieu of his earlier Cannery Row. A love story set against the background of the local brothel, the Bear Flag, Sweet Thursday is for all its intimations of melancholy one of the most lighthearted of Steinbeck's books. It was subsequently adapted by Rodgers and Hammerstein into their musical Pipe Dream. Steinbeck's final novel, The Winter of Our Discontent (1961) is set in an old Long Island whaling town modeled on Sag Harbor, where he had been spending time since 1953. The book breaks new ground in its depiction of the crass commercialism of contemporary America, and its impact on a protagonist with traditionalist values who is appalled but finally tempted by the encroaching sleaziness.

Travels with Charley in Search of America (1962) was Steinbeck's last published book. A record of his experiences and observations as he drove around America in a pickup truck, accompanied by his standard poodle Charley, it is filled with engaging, often humorous description and comes to a powerful climax in an encounter with racist demonstrators in New Orleans.

LIBRARY OF AMERICA is an independent nonprofit cultural organization founded in 1979 to preserve our nation's literary heritage by publishing, and keeping permanently in print, America's best and most significant writing. The Library of America series includes more than 300 volumes to date, authoritative editions that average 1,000 pages in length, feature cloth covers, sewn bindings, and ribbon markers, and are printed on premium acid-free paper that will last for centuries.
Library of America, 9781598530049, 1125pp.
Publication Date: February 15, 2007
About the Author
John Steinbeck (1902-1968) is the author of such celebrated works as Tortilla Flat (1935), Of Mice and Men (1937), and The Grapes of Wrath (1939), for which he won both the National Book Award and the Pulitzer Prize. He was awarded the Nobel Prize in Literature in 1962.

The editors of this volume are Robert DeMott and Brian Railsback. Robert DeMott is the Edwin and Ruth Kennedy Distinguished Professor at Ohio University and the author of Steinbeck's Typewriter, an award-winning book of critical essays. Brian Railsback is dean of the Honors College at Western Carolina University and the author of Parallel Expeditions: Charles Darwin and the Art of John Steinbeck.