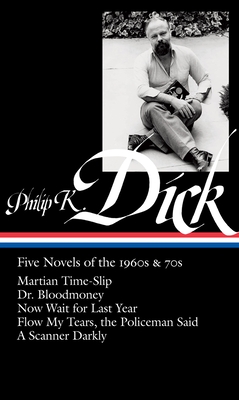 Philip K. Dick
Five Novels of the 1960s & 70s (LOA #183): Martian Time-Slip / Dr. Bloodmoney / Now Wait for Last Year / Flow My Tears, the Policeman Said / A Scanner Darkly (Library of America Philip K. Dick Edition #2)
Hardcover

* Individual store prices may vary.
Description
Jonathan Lethem, editor

"The most outré science fiction writer of the 20th century has finally entered the canon," exclaimed Wired Magazine upon The Library of America's May 2007 publication of Philip K. Dick: Four Novels of the 1960s, edited by Jonathan Lethem. Now comes a companion volume collecting five novels that offer a breathtaking overview of the range of this science-fiction master.

Philip K. Dick (1928-82) was a writer of incandescent imagination who made and unmade world-systems with ferocious rapidity and unbridled speculative daring. "The floor joists of the universe," he once wrote, "are visible in my novels." Martian Time-Slip (1964) unfolds on a parched and thinly colonized Red Planet where schizophrenia is a contagion and the unscrupulous seek to profit from a troubled child's time-fracturing visions. Dr. Bloodmoney, or How We Got Along After the Bomb (1965) chronicles the deeply-interwoven stories of a multi-racial community of survivors, including the scientist who may have been responsible for World War III. Famous, among other reasons, for a therapy session involving a talking taxicab, Now Wait for Last Year (1966) explores the effects of JJ-180, a hallucinogen that alters not only perception, but reality. In Flow My Tears, the Policeman Said (1974), a television star seeks to unravel a mystery that has left him stripped of his identity. A Scanner Darkly (1977), the basis for the 2006 film, envisions a drug-addled world in which a narcotics officer's tenuous hold on sanity is strained by his new surveillance assignment: himself. Mixing metaphysics and madness, phantasmagoric visions of a post-nuclear world and invading extraterrestrial authoritarians, and all-too-real evocations of the drugged-out America of the 70s, Dick's work remains exhilarating and unsettling in equal measure.

LIBRARY OF AMERICA is an independent nonprofit cultural organization founded in 1979 to preserve our nation's literary heritage by publishing, and keeping permanently in print, America's best and most significant writing. The Library of America series includes more than 300 volumes to date, authoritative editions that average 1,000 pages in length, feature cloth covers, sewn bindings, and ribbon markers, and are printed on premium acid-free paper that will last for centuries.
Library of America, 9781598530254, 1000pp.
Publication Date: July 31, 2008
About the Author
Jonathan Lethem is the author of numerous acclaimed novels, including Motherless Brooklyn and The Fortress of Solitude.