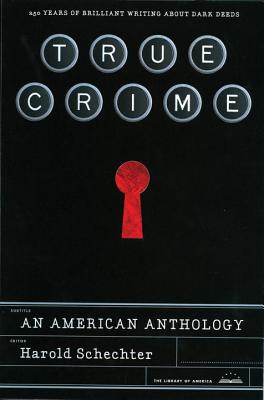 True Crime
An American Anthology: A Library of America Special Publication
Hardcover

* Individual store prices may vary.
Description
From the Mayflower to the Menendez brothers, a sweeping survey of the best writing about crime in America

Americans have had an uneasy fascination with crime since the earliest European settlements in the New World, and right from the start true crime writing became a dominant genre in American writing. True Crime: An American Anthology offers the first comprehensive look at the many ways in which American writers have explored crime in a multitude of aspects: the dark motives that spur it, the shock of its impact on society, the effort to make sense of the violent extremes of human behavior. Here is the full spectrum of the true crime genre, including accounts of some of the most notorious criminal cases in American history: the Helen Jewett murder and the once-notorious "Kentucky tragedy" of the 1830s, the assassination of President Garfield, the Snyder-Gray murder that inspired Double Indemnity, the Lindbergh kidnapping, the Black Dahlia, Leopold and Loeb, and the Manson family. True Crime draws upon the writing of literary figures as diverse as Nathaniel Hawthorne (reporting on a visit to a waxworks exhibit of notorious crimes), Ambrose Bierce, Mark Twain, Theodore Dreiser (offering his views on a 1934 murder that some saw as a "copycat" version of An American Tragedy), James Thurber, Joseph Mitchell, and Truman Capote and sources as varied as execution sermons, murder ballads, early broadsides and trial reports, and tabloid journalism of many different eras. It also features the influential true crime writing of best-selling contemporary practitioners like James Ellroy, Gay Talese, Dominick Dunne, and Ann Rule.
Library of America, 9781598530315, 900pp.
Publication Date: September 18, 2008
About the Author
Harold Schechter, volume editor, is a professor of American literature at Queens College, the City University of New York. He is the author of more than two dozen books and is best known for his historical true-crime accounts, most recently The Devil's Gentleman: Privilege, Poison, and the Trial That Ushered in the Twentieth Century (2007). He is also the author of six novels, including a mystery series featuring Edgar Allan Poe.