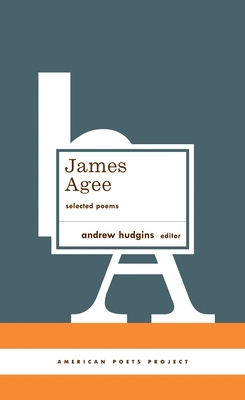 James Agee (Hardcover)
Selected Poems: (American Poets Project #27)
Library of America, 9781598530322, 200pp.
Publication Date: October 2, 2008
* Individual store prices may vary.
Description
Better known for writing in a variety of other genres, James Agee always thought of himself as essentially a poet. Winner of the Yale Younger Poets competition in 1934 for Permit Me Voyage, Agee was, in the words of editor Andrew Hudgins, "as restless in his poetry as he was later in his prose, exhibiting a variety . . . that we expect from the protean mind that excelled in so many different kinds of writing." Ranging from intense religious sonnets to lyrics for musical comedy, Agee?s verse takes us into the heart of his unique genius, what Robert Fitzgerald called his "sense of being . . . a raging awareness of the sensory field in depth and in detail."

About the American Poets Project
Elegantly designed in compact editions, printed on acid-free paper, and textually authoritative, the American Poets Project makes available the full range of the American poetic accomplishment, selected and introduced by today's most discerning poets and critics.
About the Author
Andrew Hudgins, editor, is Humanities Distinguished Professor in English at The Ohio State University. His volumes of poetry include American Rendering: New and Selected Poems (2010), Ecstatic in the Poison (2003); Babylon in a Jar (1998); The Glass Hammer: A Southern Childhood (1994); The Never-Ending: New Poems (1991), a finalist for the National Book Award; After the Lost War: A Narrative (1988), which received the Poetry Prize; and Saints and Strangers (1985), a finalist for the Pulitzer Prize. He is also the author of a book of essays, The Glass Anvil (1997).
or
Not Currently Available for Direct Purchase