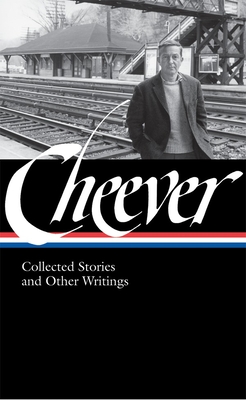 John Cheever
Collected Stories and Other Writings (LOA #188) (Library of America John Cheever Edition #1)
Hardcover

* Individual store prices may vary.
Description
John Cheever's stories rank among the finest achievements of twentieth-century short fiction. Ensnared by the trappings of affluence, adrift in the emptiness of American prosperity, his characters find themselves in the midst of dramas that, however comic, pose profound questions about conformity and class, pleasure and propriety, and the conduct and meaning of an individual life. At the same time, the stories reveal their author to be a master whose prose is at once precise and sensuous, in which a shrewd eye for social detail is paired with a lyric sensitivity to the world at large. "The constants that I look for," he wrote in the preface to The Stories of John Cheever, "are a love of light and a determination to trace some moral chain of being."

Cheever's superlative gifts as a storyteller are evident even in his first published work, "Expelled" (1930), which appeared in The New Republic when he was only 18: "I felt that I was hearing for the first time the voice of a new generation," said Malcolm Cowley, then an editor at the magazine. 

Moving to Manhattan from his native Massachusetts, Cheever began publishing stories in The New Yorker in the 1930s, establishing a crucial if sometimes contentious relationship that would last for much of his career. His debut collection, The Way Some People Live (1943), was a book that he effectively disowned, regarding it as apprentice work; the best stories in the volume, as selected by editor Blake Bailey, are here restored to print for the first time, offering—along with seven other stories that Cheever never collected—an intriguing glimpse into his early development.  

By the late 1940s Cheever had come into his own as a writer, achieving a breakthrough in 1947 with the Kafkaesque tale "The Enormous Radio." It was soon followed by works of startling fluency and power, such as the unsettling "Torch Song," with its suggestion of menace and the uncanny, as well as the searing, beautiful treatment of fraternal conflict, "Goodbye, My Brother."

Finally, when Cheever and his family moved to Westchester County in the 1950s, he began writing about the disappointments of postwar suburbia in such definitive classics as "The Sorrows of Gin," "The Five-Forty-Eight," "The Country Husband," and "The Swimmer."

This volume, published to coincide with Blake Bailey's groundbreaking biography, is the largest collection of Cheever's stories ever published, and celebrates his indelible achievement by gathering the complete Stories of John Cheever (1978), as well as seven stories from The Way Some People Live and seven additional stories first published in periodicals between 1930 and 1953. Also included are several short essays on writers and writing, including a previously unpublished speech on Saul Bellow.

LIBRARY OF AMERICA is an independent nonprofit cultural organization founded in 1979 to preserve our nation's literary heritage by publishing, and keeping permanently in print, America's best and most significant writing. The Library of America series includes more than 300 volumes to date, authoritative editions that average 1,000 pages in length, feature cloth covers, sewn bindings, and ribbon markers, and are printed on premium acid-free paper that will last for centuries.
Library of America, 9781598530346, 1000pp.
Publication Date: March 5, 2009
About the Author
John Cheever (1912-1982) was one of the most celebrated novelists and short story writers of the last century, winner of the National Book Award for his first novel, The Wapshot Chronicle (1957), and both the Pulitzer Prize and National Book Critics Circle Award for The Stories of John Cheever (1978).

Blake Bailey is the author of A Tragic Honesty: The Life and Work of Richard Yates. His 2009 biography of John Cheever won the National Book Critics Circle Award.
or
Not Currently Available for Direct Purchase