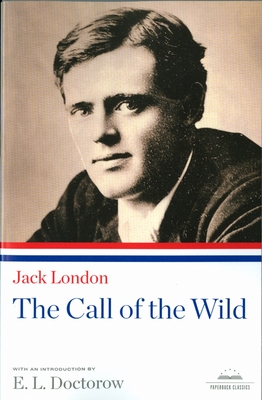 The Call of the Wild (Paperback)
A Library of America Paperback Classic
Library of America, 9781598530582, 120pp.
Publication Date: July 30, 2009
Other Editions of This Title:
Digital Audiobook (5/24/2010)
Paperback (3/8/2018)
Paperback (10/9/2015)
Paperback (11/5/2015)
Paperback (8/12/2016)
Paperback (12/20/2011)
Paperback (4/14/2019)
Paperback (4/28/2016)
Paperback (8/29/2017)
Paperback (4/29/2015)
Paperback (10/1/2018)
Paperback (1/3/2019)
Paperback (8/24/2018)
Paperback (9/1/2004)
Paperback (10/13/2019)
Paperback (2/11/2019)
Paperback (4/5/2015)
Paperback (1/22/2014)
* Individual store prices may vary.
Description
"No other popular writer of his time did any better writing than you will find in The Call of the Wild."
—H. L. Mencken

One of the greatest American storytellers, Jack London enjoyed phenomenal popularity in his own time and remains widely read throughout the world. His work is characterized by thrilling action, an intuitive feeling for animal life, and a sense of justice that often manifests itself through violence. The Call of the Wild, perhaps the best novel ever written about animals, traces a dog?s sudden entry into the wild and his education in survival among the wolves.

Library of America Paperback Classics feature authoritative texts drawn from the acclaimed Library of America series and introduced by today?s most distinguished scholars and writers. Each book features a detailed chronology of the author?s life and career, and essay on the choice of the text, and notes.

The contents of this Paperback Classic are drawn from Jack London: Novels and Stories, volume number 6 in The Library of America series. It is joined in the series by a companion volume, number 7, Jack London: Novels and Social Writings.
About the Author
John Griffith "Jack" London (1876–1916) was an American author, journalist, and social activist. Some of his most famous works include The Call of the Wild and White Fang, as well as the short stories "To Build a Fire", "An Odyssey of the North", and "Love of Life".

Edgar Lawrence Doctorow (1931–2015) was an internationally acclaimed novelist best known for his works of historical fiction, including Ragtime and Billy Bathgate.