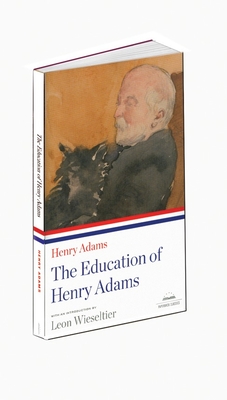 The Education of Henry Adams
A Library of America Paperback Classic
Paperback

* Individual store prices may vary.
Other Editions of This Title:
Digital Audiobook (6/30/2007)
Digital Audiobook (5/11/2008)
Paperback (2/5/2021)
Paperback (2/5/2021)
Paperback (6/9/2020)
Paperback (3/9/2017)
Paperback (6/9/2017)
Paperback (6/12/2017)
Paperback (5/20/2021)
Paperback (11/8/2018)
Paperback (10/5/2017)
Paperback (9/25/2019)
Paperback (10/14/2017)
Paperback (2/1/2011)
Paperback (5/2/2013)
Description
"The pleasure of reading the Education is . . . the pleasure of seeing history come alive, of seeing it move, of seeing behind history to the actions and actors. It is the pleasure of seeing revealed the humanity so often concealed in history." -Alfred Kazin

Henry Adams was one of the most powerful and original minds to confront the American scene from the Civil War to World War I. Though a man of the modern world, Adams remained in temperament a child of the 18th century, his political ideals shaped by his presidential ancestors, great-grandfather John Adams and grandfather John Quincy Adams. The Education of Henry Adams is both a brilliant memoir and a profound meditation on the extraordinary developments in science, politics, religion, and society that so transformed the world as he knew it.

For almost thirty years, The Library of America has presented America's best and most significant writing in acclaimed hardcover editions. Now, a new series, Library of America Paperback Classics, offers attractive and affordable books that bring The Library of America's authoritative texts within easy reach of every reader. Each book features an introductory essay by one of a leading writer, as well as a detailed chronology of the author's life and career, an essay on the choice and history of the text, and notes.

The contents of this Paperback Classic are drawn from Henry Adams: Novels, Mont Saint Michel, The Education, volume number 14 in the Library of America series. That volume is joined in the series by two companion volumes, numbers 31 and 32, Henry Adams: History of the United States During the Administrations of Thomas Jefferson and Henry Adams: History of the United States During the Administrations of James Madison.
Library of America, 9781598530605, 524pp.
Publication Date: December 31, 2009
About the Author
Born in 1838 into one of the oldest and most distinguished families in Boston, a family which had produced two American presidents, Henry Adams had the opportunity to pursue a wide-ranging variety of intellectual interests during the course of his life. Functioning both in the world of practical men and afffairs (as a journalist and an assistant to his father, who was an American diplomat in Washinton and London), and in the world of ideas (as a prolific writer, the editor of the prestigious North American Review, and a professor of medieval, european, and American history at Harvard), Adams was one of the few men of his era who attempted to understand art, thought, culture, and history as one complex force field of interacting energies. His two masterworks in this dazzling effort are Mont Saint Michel and Chartres and The Education of Henry Adams, published one after the other in 1904 and 1907. Taken together they may be read as Adams' spiritual autobiography—two monumental volumes in which he attempts to bring together into a vast synthesis all of his knowledge of politics, economics, psychology, science, philosophy, art, and literature in order to attempt to understand the individual's place in history and society. They constitute one of the greatest historical and philosophical meditations on the human condition in all of literature.
or
Not Currently Available for Direct Purchase