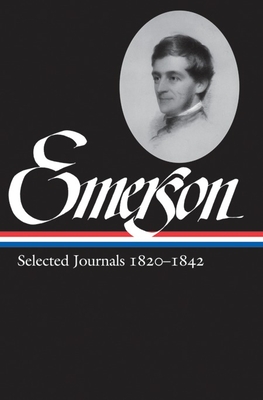 Ralph Waldo Emerson
Selected Journals Vol. 1 1820-1842 (LOA #201) (Library of America Ralph Waldo Emerson Edition #3)
Hardcover

* Individual store prices may vary.
Other Editions of This Title:
Paperback (1/13/2014)
Hardcover (4/1/2010)
Paperback (8/5/2010)
Description
When Emerson died in 1882 he was the most famous public intellectual in America. Yet his most remarkable literary creation--his journals--remained unpublished. Begun when he was a precocious Harvard junior of 16 and continued without significant lapse for almost 60 years, Emerson's journals were his life's work. They were the starting point for virtually everything in his celebrated essays, lectures, and poems. It would be a hundred years after his death before these intimate records would appear in print in their entirety, and they are still, at over three million words, among the least known and least available of Emerson's writings.

With Selected Journals 1820-1842 and its companion volume Selected Journals 1841-1877, The Library of America presents the most ample and comprehensive nonspecialist edition of Emerson's great work ever published--one that retains the original order in which he composed his thoughts and preserves the dramatic range of his unique style in long, uninterrupted passages, but without the daunting critical apparatus of the 16-volume scholarly edition. Each volume includes a 16-page portfolio of images of Emerson and his contemporaries, a note on the selections, extensive notes, biographical sketches, a chronology, and an index.

This volume begins with Emerson's first journal entry, on January 25, 1820, in a homemade booklet he titled The Wide World, and follows him through his early years at Harvard College and the Divinity School, his ordination as a Unitarian minister, his marriage to Ellen Tucker and her untimely death, his fateful decision to leave the ministry, and his travels in England and on the Continent. It offers an irreplaceable perspective on the intellectual currents of the day--the emergence of Transcendentalism; the furor over Emerson's "Divinity School Address"; the founding of The Dial; experiments in communal living at Fruitlands and Brook Farm--and intimate sketches of Emerson's friends and contemporaries, including Henry David Thoreau, Margaret Fuller, Thomas Carlyle, William Wordsworth, Samuel Taylor Coleridge, Nathaniel Hawthorne, and others.

LIBRARY OF AMERICA is an independent nonprofit cultural organization founded in 1979 to preserve our nation's literary heritage by publishing, and keeping permanently in print, America's best and most significant writing. The Library of America series includes more than 300 volumes to date, authoritative editions that average 1,000 pages in length, feature cloth covers, sewn bindings, and ribbon markers, and are printed on premium acid-free paper that will last for centuries.
Praise For Ralph Waldo Emerson: Selected Journals Vol. 1 1820-1842 (LOA #201) (Library of America Ralph Waldo Emerson Edition #3)…
"In his journals, Emerson focused on a wide range of topics, from moral truth to domestic gossip, from Concord to European travels, from solitude to democracy, slavery, and the US economy. His frame of reference oscillates between nature and human character (of both historical figures and his contemporaries). Both history and autobiography, these volumes are captivating. Highly recommended." —Choice
Library of America, 9781598530674, 992pp.
Publication Date: March 4, 2010
About the Author
Ralph Waldo Emerson (1803-1882) settled in Concord, Massachusetts, in 1834, where he began a career as a public lecturer. Every year Emerson made a lecture tour, the source of most of his essays. His principal publications include Nature (1836), two volumes of Essays (1841, 1844), Poems (1847), Representative Men (1850), The Conduct of Life (1860), and Society and Solitude (1870).

Lawrence Rosenwald, editor, is Anne Pierce Rogers Professor of American Literature at Wellesley College and the author of Emerson and the Art of the Diary.
or
Not Currently Available for Direct Purchase