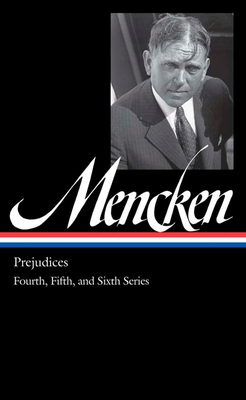 H. L. Mencken
Prejudices Vol. 2 (LOA #207): Fourth, Fifth, and Sixth Series (Library of America H. L. Mencken Edition #2)
Hardcover

* Individual store prices may vary.
Other Editions of This Title:
Hardcover (9/2/2010)
Description
H. L. Mencken was the most provocative and influential journalist and cultural critic in twentieth-century America. In this volume and a companion, The Library of America presents all six series of Prejudices (1919–1927), the iconoclastic collections that helped blast American literature out of its complacency and into a new age of frankness and maturity. The fantastic linguistic inventiveness, full-bodied humor, and unwaveringly fierce courage of his journalism made him a liberating force for his contemporaries.

The final three series show Mencken at his lacerating best, taking on targets from religious fundamentalism to the dismal state of higher education. Included are such famous essays as "The Hills of Zion," his report on the local atmosphere surrounding the Scopes trial in 1925; "In Memoriam: W.J.B.," his relentless postmortem on William Jennings Bryan; "The Fringes of Lovely Letters," a hilarious delineation of the lower and outer reaches of the literary world; "Comstockery," a devastating account of the anti-obscenity crusader Anthony Comstock ("A good woman, to him, was simply one who was efficiently policed"); and "On Living in Baltimore," a celebration of his beloved native city.

Mencken was a man of strong enthusiasms and even stronger antipathies, expressed in a prose style that marshaled all the resources of the American language in a rich blend of comic invention and sarcastic fury. To read Prejudices is to embark on an exploration of many curious byways of American culture in a moment of tumultuous and often combative transition. Mencken never shied from combat, and the courage with which he confronted the entrenched truisms and hypocrisies of his time made him a uniquely liberating force in American letter.

LIBRARY OF AMERICA is an independent nonprofit cultural organization founded in 1979 to preserve our nation's literary heritage by publishing, and keeping permanently in print, America's best and most significant writing. The Library of America series includes more than 300 volumes to date, authoritative editions that average 1,000 pages in length, feature cloth covers, sewn bindings, and ribbon markers, and are printed on premium acid-free paper that will last for centuries.
Library of America, 9781598530759, 656pp.
Publication Date: September 2, 2010
About the Author
Henry Louis Mencken (1880-1956), the "Sage of Baltimore," was the most provocative and influential journalist and cultural critic in twentieth-century America.

Marion Elizabeth Rodgers is the author of Mencken: The American Iconoclast and editor of Mencken and Sara: A Life in Letters and The Impossible H. L. Mencken.
or
Not Currently Available for Direct Purchase