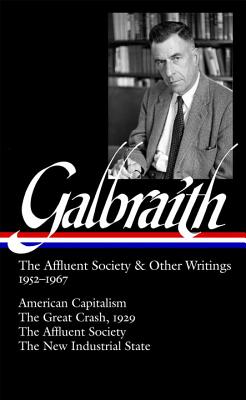 John Kenneth Galbraith
The Affluent Society & Other Writings 1952-1967 (LOA #208): American Capitalism / The Great Crash, 1929 / The Affluent Society / The New Industrial State
Hardcover

* Individual store prices may vary.
Description
Incisive and original, John Kenneth Galbraith wrote with an eloquence that burst the conventions of his discipline and won a readership none of his fellow economists could match. This Library of America volume, the first devoted to economics, gathers four of his key early works, the books that established him as one of the leading public intellectuals of the last century.

In American Capitalism, Galbraith exposes with great panache the myth of American free-market competition. The idea that an impersonal market sets prices and wages, and maintains balance between supply and demand, remained so vital in American economic thought, Galbraith argued, because oligopolistic American businessmen never acknowledged their collective power. Also overlooked was the way that groups such as unions and regulatory agencies react to large oligopolies by exerting countervailing power—a concept that was the book's lasting contribution.

The Great Crash, 1929 offers a gripping account of the most legendary (and thus misunderstood) financial collapse in American history, as well as an inquiry into why it led to sustained depression. Galbraith posits five reasons: unusually high income inequality; a bad, overleveraged corporate structure; an unsound banking system; unbalanced foreign trade; and, finally, "the poor state of economic intelligence." His account is a trenchant analysis of the 1929 crisis and a cautionary tale of ignorance and hubris among stock-market players; not surprisingly, the book was again a bestseller in the wake of the 2008 economic collapse.

In The Affluent Society, the book that introduced the phrase "the conventional wisdom" into the American lexicon, Galbraith takes on a shibboleth of free-market conservatives and Keynesian liberals alike: the paramount importance of production. For Galbraith, the American mania for production continued even in an era of unprecedented affluence, when the basic needs of all but an impoverished minority had easily been met. Thus the creation of new and spurious needs through advertising—leading to skyrocketing consumer debt, and eventually a private sector that is glutted at the expense of a starved public sector.

The New Industrial State stands as the most developed exposition of Galbraith's major themes. Examining the giant postwar corporations, Galbraith argued that the "technostructure" necessary for such vast organizations—comprising specialists in operations, marketing, and R&D—is primarily concerned with reducing risk, not with maximizing profits; it perpetuates stability through "the planning system." The book concludes with a prescient analysis of the "educational and scientific estate," which prefigures the "information economy" that has emerged since the book was published.

LIBRARY OF AMERICA is an independent nonprofit cultural organization founded in 1979 to preserve our nation's literary heritage by publishing, and keeping permanently in print, America's best and most significant writing. The Library of America series includes more than 300 volumes to date, authoritative editions that average 1,000 pages in length, feature cloth covers, sewn bindings, and ribbon markers, and are printed on premium acid-free paper that will last for centuries.
Library of America, 9781598530773, 1056pp.
Publication Date: September 30, 2010
About the Author
John Kenneth Galbraith was born in 1908 in Ontario, Canada. He earned a PhD at the University of California in 1934 and later took a fellowship at Cambridge, where he first encountered Keynesian economics. At different points in his life he taught at both Harvard and Princeton, and wrote more than forty books on an array of economic topics. During World War II he served as deputy head of the Office of Price Administration, charged with preventing inflation from crippling the war efforts, and also served as the US Ambassador to India during the Kennedy administration. He passed away in 2006.
or
Not Currently Available for Direct Purchase