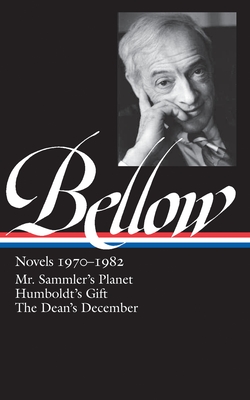 Saul Bellow
Novels 1970-1982 (LOA #209): Mr. Sammler's Planet / Humboldt's Gift / The Dean's December (Library of America Saul Bellow Edition #3)
Hardcover

* Individual store prices may vary.
Description
The third volume of The Library of America edition of Saul Bellow's complete novels collects three essential works: Mr. Sammler's Planet (1970), Humboldt's Gift (1975), and The Dean's December (1982). These novels, written in the period of Bellow's greatest literary and popular acclaim—he was awarded the Nobel Prize in Literature in 1976—are unsparing yet humane, and range widely in their philosophical and cultural concerns. They offer the indispensable voice of a great American raconteur and thinker.

In Mr. Sammler's Planet, the anarchic forces of late-1960s America are set loose on Artur Sammler, a highly cultured septuagenarian and European émigré who seeks "with God, to be free from the bondage of the ordinary and the finite." A Holocaust survivor living out his latter days in Manhattan, Sammler endures the city's everyday barbarism, as shocking as it is casual, and must contend with absurd complications when a manuscript goes missing.

Humboldt's Gift depicts the deep and troubled friendship between the tormented poet Von Humboldt Fleisher and the renowned writer Charlie Citrine. Humboldt has died in squalid obscurity, but for Citrine the memory of their earlier days persists as counterpoint to a middle age studded with difficulties: a messy divorce, a demanding mistress, and the attentions of a Chicago hoodlum who claims that Charlie has cheated him. Writing of the book's "rich and suggestive" narrative voice, Sven Birkerts observes, "There is a feeling when reading this novel that a tightly rolled sultan's carpet has splashed open before our eyes."

In The Dean's December, Albert Corde experiences totalitarianism firsthand when he travels to Bucharest to visit his dying mother-in-law. As a college dean in Chicago he has attracted controversy through his journalism and his role in a racially charged murder trial. Alternating between Romanian and American settings, the novel is a profound indictment of official hypocrisy and corruption on both sides of the Iron Curtain.

LIBRARY OF AMERICA is an independent nonprofit cultural organization founded in 1979 to preserve our nation's literary heritage by publishing, and keeping permanently in print, America's best and most significant writing. The Library of America series includes more than 300 volumes to date, authoritative editions that average 1,000 pages in length, feature cloth covers, sewn bindings, and ribbon markers, and are printed on premium acid-free paper that will last for centuries.
Library of America, 9781598530797, 1056pp.
Publication Date: September 30, 2010
About the Author
Saul Bellow was born of Russian Jewish parents in Lachine, Quebec in 1915, and was raised in Chicago. His works include The Adventures of Augie March, which went on to win the National Book Award for fiction in 1954, Seize the Day (1956); Henderson the Rain King (1959); and Humboldt's Gift (1975), which won the Pulitzer Prize. In 1976 Bellow was awarded the Nobel Prize for Literature "for the human understanding and subtle analysis of contemporary culture that are combined in his work." In 2003, he became just the second living writer to have his works published in the Library of America series. He died in 2005.

James Wood, editor, is a staff writer at The New Yorker and author of The Irresponsible Self: On Laughter and the Novel (2004), The Broken Estate: Essays on Literature and Belief(1999), and the novel The Book Against God (2003).