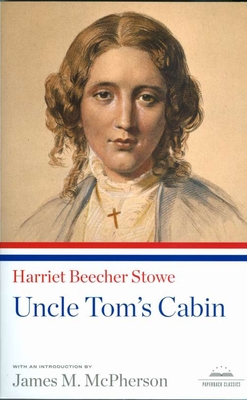 Uncle Tom's Cabin
A Library of America Paperback Classic
Paperback

* Individual store prices may vary.
Other Editions of This Title:
Digital Audiobook (4/25/2016)
Paperback (8/12/2018)
Paperback (3/25/2020)
Paperback (10/20/2018)
Paperback (7/30/2008)
Paperback (3/18/2016)
Paperback (2/24/2020)
Paperback (9/13/2006)
Paperback (7/10/2020)
Description
"The most powerful and enduring work of art ever written about American slavery."
-Alfred Kazin
When Abraham Lincoln met Harriet Beecher Stowe in 1862, he greeted her as "the little woman who wrote the book that made this great war." He was exaggerating only slightly. First published in 1852, Uncle Tom's Cabin sold more than 300,000 copies in its first year and brought home the evils of slavery more dramatically than any abolitionist tract possibly could. With its boldly drawn characters, violent reversals of fortune, and unabashed sentimentality, Stowe's work remains one of the great polemical novels of American literature, a book with the emotional impact of a round of cannon fire.
For almost thirty years, The Library of America has presented America's best and most significant writing in acclaimed hardcover editions. Now, a new series, Library of America Paperback Classics, offers attractive and affordable books that bring The Library of America's authoritative texts within easy reach of every reader. Each book features an introductory essay by one of a leading writer, as well as a detailed chronology of the author's life and career, an essay on the choice and history of the text, and notes.
The contents of this Paperback Classic are drawn from Harriet Beecher Stowe: Three Novels, volume number 4 in The Library of America series. That volume also includes The Minister's Wooing and Oldtown Folks.


Library of America, 9781598530865, 544pp.
Publication Date: August 12, 2010
About the Author
Harriet Beecher Stowe (1811–1896) was born in Litchfield, Connecticut, daughter of the Reverend Lyman Beecher of the local Congregational Church. In 1832, the family moved to Cincinnati, where Harriet married Calvin Ellis Stowe, a professor at the seminary, in 1836. The border town of Cincinnati was alive with abolitionist conflict and there Mrs. Stowe took an active part in community life. She came into contact with fugitive slaves, and learned from friends and from personal visits what life was like for the Negro in the South. In 1850, the Fugitive Slave Law was passed, and that same year Harriet's sister-in-law urged the author to put her feelings about the evils of slavery into words. Uncle Tom's Cabin was first published serially during 1851–52 in The National Era, and in book form in 1852. In one year more than 300,000 copies of the novel were sold. Mrs. Stowe continued to write, publishing eleven other novels and numerous articles before her death at the age of eighty-five in Hartford, Connecticut.

James M. McPherson is the George Henry Davis '86 Professor of History Emeritus at Princeton University. He has published numerous volumes on the Civil War, including the Pulitzer Prize–winning Battle Cry of Freedom, Crossroads of Freedom, For Cause and Comrades: Why Men Fought in the Civil War, and most recently, Abraham Lincoln.