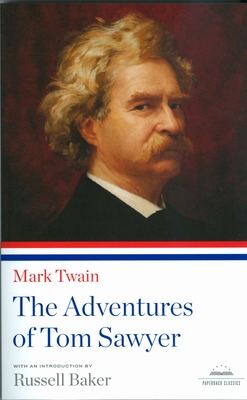 The Adventures of Tom Sawyer (Paperback)
A Library of America Paperback Classic
Library of America, 9781598530872, 256pp.
Publication Date: August 12, 2010
Other Editions of This Title:
Paperback (4/21/2017)
Paperback (12/24/2016)
Paperback (7/28/2012)
Paperback (9/18/2010)
Paperback (11/2/2015)
Paperback (11/27/2016)
Paperback (6/7/2017)
Paperback (10/19/2013)
Paperback (9/19/2010)
Paperback (9/9/2009)
Paperback (10/30/2016)
Paperback (10/18/2019)
Paperback (1/19/2015)
Paperback (3/20/2017)
Paperback (7/1/2013)
Paperback (9/24/2011)
Paperback (1/26/2019)
Hardcover (7/1/2005)
Paperback (12/5/2018)
Paperback (9/23/2018)
* Individual store prices may vary.
Description
"Mark Twain is the true father of all American literature."
-Eugene O'Neill
Mark Twain is perhaps the most widely read and enjoyed of all our national writers. Tom Sawyer, according to Twain, "is simply a hymn put into prose form to give it a worldly air," a book in which nostalgia is so strong that it dissolves the tensions and perplexities that assert themselves in the later works. It is filled with comic and melodramatic adventure, with horseplay and poetic evocations of scenery, and with characters who have become central to American mythology.
For almost thirty years, The Library of America has presented America's best and most significant writing in acclaimed hardcover editions. Now, a new series, Library of America Paperback Classics, offers attractive and affordable books that bring The Library of America's authoritative texts within easy reach of every reader. Each book features an introductory essay by one of a leading writer, as well as a detailed chronology of the author's life and career, an essay on the choice and history of the text, and notes.
The contents of this Paperback Classic are drawn from Mark Twain: Mississippi Writings, volume number 5 in the Library of America series. It is joined in the series by six companion volumes, gathering the collected works of Mark Twain.



About the Author
Mark Twain was born Samuel Langhorne Clemens in Florida, Missouri, in 1835, and died at Redding, Connecticut in 1910. In his person and in his pursuits he was a man of extraordinary contrasts. Although he left school at twelve when his father died, he was eventually awarded honorary degrees from Yale University, the University of Missouri, and Oxford University. His career encompassed such varied occupations as printer, Mississippi riverboat pilot, journalist, travel writer, and publisher. He made fortunes from his writing but toward the end of his life he had to resort to lecture tours to pay his debts. He was hot-tempered, profane, and sentimental—and also pessimistic, cynical, and tortured by self-doubt. His nostalgia helped produce some of his best books. He lives in American letters as a great artist, the writer whom William Dean Howells called "the Lincoln of our literature."
or
Not Currently Available for Direct Purchase