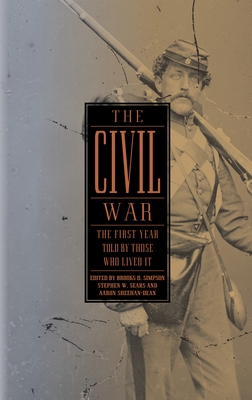 The Civil War: The First Year Told by Those Who Lived It: (Library of America #212) (Hardcover)
The First Year Told by Those Who Lived It: (Library of America #212)
Library of America, 9781598530889, 640pp.
Publication Date: February 3, 2011
Description
After 150 years the Civil War is still our greatest national drama, at once heroic, tragic, and epic-our Iliad, but also our Bible, a story of sin and judgment, suffering and despair, death and resurrection in a "new birth of freedom." Drawn from letters, diaries, speeches, articles, poems, songs, military reports, legal opinions, and memoirs, The Civil War: The First Year gathers over 120 pieces by more than sixty participants to create a unique firsthand narrative of this great historical crisis. Beginning on the eve of Lincoln's election in November 1860 and ending in January 1862 with the appointment of Edwin M. Stanton as secretary of war, this volume presents writing by figures well-known-Ulysses S. Grant, Robert E. Lee, Mary Chesnut, Frederick Douglass, and Lincoln himself among them-and less familiar, like proslavery advocate J.D.B. DeBow, Lieutenants Charles B. Haydon of the 2nd Michigan Infantry and Henry Livermore Abbott of the 20th Massachusetts Volunteer Infantry Regiment, and plantation mistresses Catherine Edmondston of North Carolina and Kate Stone of Mississippi. Together, the selections provide a powerful sense of the immediacy, uncertainty, and urgency of events as the nation was torn asunder. Includes headnotes, a chronology of events, biographical and explanatory endnotes, full-color hand-drawn endpaper maps, and an index. Companion volumes will gather writings from the second, third, and final years of the conflict.
Advertisement