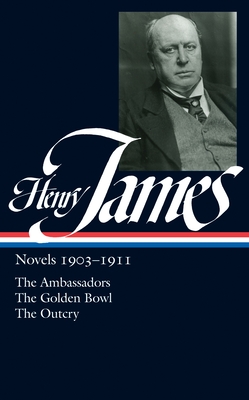 Henry James: Novels 1903-1911: The Ambassadors / The Golden Bowl / The Outcry (Hardcover)
Novels 1903-1911: The Ambassadors / The Golden Bowl / The Outcry
Library of America, 9781598530919, 7000pp.
Publication Date: January 6, 2011
* Individual store prices may vary.
or
Not Currently Available for Direct Purchase
Description
Nearly thirty years in the making, The Library of America's eleven-volume edition of the complete fiction of Henry James now culminates with this authoritative volume collecting his final three finished works. Considered by James to be his most finely constructed novel, The Ambassadors (1903) recounts the attempts of a conscientious American to convince the son of a friend to return home from Paris-and in doing so plays the charm of the Old World against the provincialism of the New. In The Golden Bowl (1904), an American woman marries an Italian prince while her father unknowingly marries the prince's former mistress; James underscores both the fragility and strength of human ties and further develops what he once called the "complex fate, being an American." Originally written for the stage but never produced, James reworked The Outcry (1911) into a highly successful comic novel of social manners that also deals with the ethics of art collecting. Included as an appendix is "The Married Son," the chapter James contributed to The Whole Family (1908), a multi-author novel conceived by William Dean Howells and portraying a dysfunctional family whose struggles mirror the frustrated collaborative efforts of the book's twelve contributors.
About the Author
Henry James (1843-1916), born in New York City, was the son of noted religious philosopher Henry James, Sr., and brother of eminent psychologist and philosopher William James. He spent his early life in America and studied in Geneva, London and Paris during his adolescence to gain the worldly experience so prized by his father. He lived in Newport, went briefly to Harvard Law School, and in 1864 began to contribute both criticism and tales to magazines.In 1869, and then in 1872-74, he paid visits to Europe and began his first novel, Roderick Hudson. Late in 1875 he settled in Paris, where he met Turgenev, Flaubert, and Zola, and wrote The American (1877). In December 1876 he moved to London, where two years later he achieved international fame with Daisy Miller. Other famous works include Washington Square (1880), The Portrait of a Lady (1881), The Princess Casamassima (1886), The Aspern Papers (1888), The Turn of the Screw (1898), and three large novels of the new century, The Wings of the Dove (1902), The Ambassadors (1903) and The Golden Bowl (1904). In 1905 he revisited the United States and wrote The American Scene (1907).During his career he also wrote many works of criticism and travel. Although old and ailing, he threw himself into war work in 1914, and in 1915, a few months before his death, he became a British subject. In 1916 King George V conferred the Order of Merit on him. He died in London in February 1916.
Advertisement