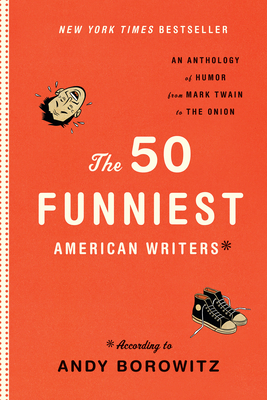 The 50 Funniest American Writers
An Anthology from Mark Twain to The Onion
Hardcover

* Individual store prices may vary.
Description
New York Times Bestseller

The creator of The New Yorker's long running satirical column and "one of the funniest people in America" pays tribute to comedic geniuses both past and present, including Mark Twain, George Saunders, Nora Ephron, and more (CBS Sunday Morning)
 
Library of America's collection of hilarious stories, essays, and articles is an exclusive Who's Who of the very best American comic writing. Classic pieces of American humor appear here, such as "The Ransom of Red Chief" by O. Henry and a selection from Anita Loos' Gentlemen Prefer Blondes.
 
Contemporary writing is well represented, with entries from comedic geniuses like David Sedaris, Larry Willmore, Roy Blount Jr., Sloane Crosby, Bernie Mac, Wanda Sykes, and George Saunders plus laugh-out-loud lesser-known pieces from The New Yorker, Esquire, The Atlantic, National Lampoon, and The Onion.


Full List of Contributors
Mark Twain
George Ade
O. Henry
Sinclair Lewis
Anita Loos
Ring Lardner
H. L. Mencken
James Thurber
Dorothy Parker
S. J. Perelman
Langston Hughes
Frank Sullivan
E. B. White
Peter De Vries
Terry Southern
Lenny Bruce
Tom Wolfe
Jean Shepherd
Hunter S. Thompson
Douglas Kenney
Henry Beard
Bruce Jay Friedman
Philip Roth
Nora Ephron
Michael O'Donoghue
George W. S. Trow
Fran Lebowitz
Charles Portis
Donald Barthelme
Veronica Geng
John Hughes
Mark O'Donnell
Garrison Keillor
Bruce McCall
Molly Ivins
Calvin Trillin
Dave Barry
The Onion writers
Susan Orlean
Roy Blount Jr
George Carlin
Ian Frazier
David Rakoff
Bernie Mac
David Sedaris
Wanda Sykes
Jack Handey
David Owen
George Saunders
Jenny Allen
Sloane Crosley
Larry Wilmore
Library of America, 9781598531077, 504pp.
Publication Date: October 13, 2011
About the Author
Andy Borowitz is a writer and a comedian whose work appears in The New Yorker and at his satirical website, BorowitzReport.com, which has millions of readers around the world. The author of six books, he is the first-ever winner of the National Press Club's humor award and a two-time finalist for the Thurber Prize for American Humor. He has been called a "Swiftian satirist" (The Wall Street Journal), and "America's satire king" (The Daily Beast).

Contributions by:
Mark Twain, George Ade, O. Henry Sinclair Lewis, Anita Loos, Ring Lardner, H. L. Mencken, James Thurber, Dorothy Parker, S. J. Perelman, Langston Hughes, Frank Sullivan, E. B. White, Peter De Vries, Terry Southern, Lenny Bruce, Tom Wolfe, Jean Shepherd, Hunter S. Thompson, Woody Allen, Bruce Jay Friedman, Philip Roth, Nora Ephron, Henry Beard, Michael O'Donoghue, George W. S. Trow, Fran Lebowitz, Charles Portis, Donald Barthelme, Veronica Geng, John Hughes, Mark O'Donnell, Garrison Keillor, Bruce McCall, Molly Ivins, Calvin Trillin, Dave Barry, The Onion, Susan Orlean, Roy Blount Jr., George Carlin, Ian Frazier, David Rakoff, Bernie Mac, David Sedaris, Wanda Sykes, Jack Handey, David Owen, George Saunders, Jenny Allen, Sloane Crosley, Larry Wilmore
or
Not Currently Available for Direct Purchase