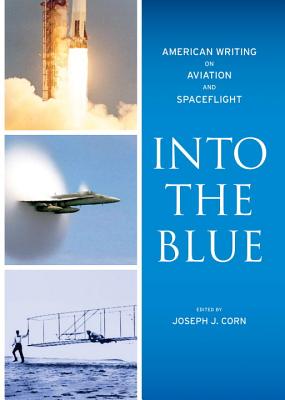 Into the Blue
American Writing on Aviation and Spaceflight: A Library of America Special Publication
Hardcover

* Individual store prices may vary.
Description
Into the Blue revisits the remarkable trajectory of Americans in air and space, gathering sixty of the best eyewitness and participant narratives from Benjamin Franklin's letters on the first hot air balloons to Chris Jones's account of being marooned on the International Space Station. Here are those who made flight happen: Orville and Wilbur Wright, self-taught pioneers whose homespun invention stunned the world; World War I ace Eddie Rickenbacker, whose memoirs (excerpted here for the first time in unedited form) describe the frightening novelties of aerial combat; and daredevils like Texas barnstormer Slats Rodgers and test pilot Jimmy Collins. Ernest Hemingway offers a vivid dispatch on a 1922 flight over France, and Gertrude Stein muses on the look of America from the air; Charles A. Lindbergh and Amelia Earhart narrate their groundbreaking transatlantic flights; Ralph Ellison reflects on the experience of African American airmen at Tuskegee; William F. Buckley Jr. recounts his mishaps as an amateur pilot; Wernher von Braun envisions a space station of the future, while astronauts John Glenn, Michael Collins and Buzz Aldrin provide firsthand recollections of the conquest of space. Here too, among many other subjects, are scenes and episodes in the development of commercial aviation, from the hiring of the first stewardesses and the high stress lives of air traffic controllers to the new ubiquity of what Walter Kirn calls "Airworld." A thirty-two-page insert offers photographs, some previously unpublished, of the writers and their crafts.
Praise For Into the Blue: American Writing on Aviation and Spaceflight: A Library of America Special Publication…
"A rich sampling of the best accounts of the thrill of flight from those who fly, and those who only dream of it. Dip in anywhere and enjoy!" — Tom Crouch, National Air and Space Museum
Library of America, 9781598531084, 750pp.
Publication Date: October 13, 2011
About the Author
Joseph J. Corn, editor, is a social and cultural historian who taught at Stanford University. He is the author of The Winged Gospel: America's Romance with Aviation and User Unfriendly: Consumer Struggles with Personal Technologies, from Clocks and Sewing Machines to Cars and Computers.
or
Not Currently Available for Direct Purchase