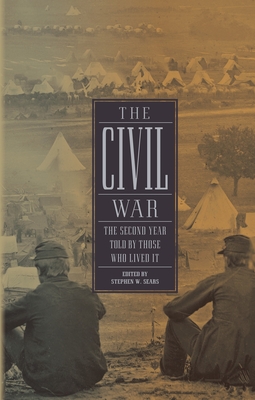 The Civil War: The Second Year Told by Those Who Lived It (Hardcover)
The Second Year Told by Those Who Lived It
Library of America, 9781598531442, 873pp.
Publication Date: March 1, 2012
* Individual store prices may vary.
or
Not Currently Available for Direct Purchase
Description
The Library of America's ambitious four-volume series continues with this volume that traces events from January 1862 to January 1863, an unforgettable portrait of the crucial year that turned a secessionist rebellion into a war of emancipation. Including eleven never-before- published pieces, here are more than 140 messages, proclamations, newspaper stories, letters, diary entries, memoir excerpts, and poems by more than eighty participants and observers, among them Abraham Lincoln, Jefferson Davis, Ulysses S. Grant, George B. McClellan, Robert E. Lee, Frederick Douglass, Emily Dickinson, Walt Whitman, Nathaniel Hawthorne, Clara Barton, Harriet Jacobs, and George Templeton Strong, as well as soldiers Charles B. Haydon and Henry Livermore Abbott; diarists Kate Stone and Judith McGuire; and war correspondents George E. Stephens and George Smalley. The selections include vivid and haunting narratives of battles-Fort Donelson, Pea Ridge, the gunboat war on the Western rivers, Shiloh, the Seven Days, Second Bull Run, Antietam, Iuka, Corinth, Perryville, Fredericksburg, Stones River-as well as firsthand accounts of life and death in the military hospitals in Richmond and Georgetown; of the impact of war on Massachusetts towns and Louisiana plantations; of the struggles of runaway slaves and the mounting fears of slaveholders; and of the deliberations of the cabinet in Washington, as Lincoln moved toward what he would call "the central act of my administration and the great event of the nineteenth century": the revolutionary proclamation of emancipation.
About the Author
STEPHEN W.SEARS, editor, is the author of George B. McClellan: The Young Napoleon; Landscape Turned Red: The Battle of Antietam; To the Gates of Richmond: The Peninsula Campaign; Chancellorsville; and Gettysburg. He has also edited The Civil War Papers of George B. McClellan.
Advertisement