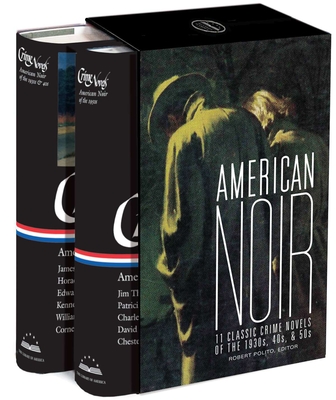 American Noir
11 Classic Crime Novels of the 1930s, 40s, & 50s: A Library of America Boxed Set
Boxed Set

* Individual store prices may vary.
Description
Collects:
CRIME NOVELS: AMERICAN NOIR OF THE 1930s & 40s
The Postman Always Rings Twice by James M. Cain
They Shoot Horses, Don't They? by Horace McCoy
Thieves Like Us by Edward Anderson
The Big Clock by Kenneth Fearing
Nightmare Alley by William Lindsay Gresham
I Married a Dead Man by Cornell Woolrich

990 pages • 978-1-883011-46-8 Library of America volume #94

CRIME NOVELS: AMERICAN NOIR OF THE 1950s
The Killer Inside Me by Jim Thompson
The Talented Mr. Ripley by Patricia Highsmith
Pick-Up by Charles Willeford
Down There by David Goodis
The Real Cool Killers by Chester Himes

892 pages • 978-1-883011-49-9 Library of America volume #95

This adventurous two-volume collection presents a rich vein of modern American writing too often neglected in mainstream literary histories. Evolving out of the terse and violent hardboiled style of the pulp magazines, noir fiction expanded over the decades into a varied and innovative body of writing. Tapping deep roots in the American literary imagination, the novels in this volume explore themes of crime, guilt, deception, obsessive passion, murder, and the disintegrating psyche. With visionary and often subversive force they create a dark and violent mythology out of the most commonplace elements of modern life. The raw power of their vernacular style has profoundly influenced contemporary American culture and writing.

LIBRARY OF AMERICA is an independent nonprofit cultural organization founded in 1979 to preserve our nation's literary heritage by publishing, and keeping permanently in print, America's best and most significant writing. The Library of America series includes more than 300 volumes to date, authoritative editions that average 1,000 pages in length, feature cloth covers, sewn bindings, and ribbon markers, and are printed on premium acid-free paper that will last for centuries.
Library of America, 9781598531534
Publication Date: April 26, 2012
About the Author
ROBERT POLITO, editor, is a poet, biographer, and critic whose Savage Art: A Biography of Jim Thompson received the National Book Critics Circle Award. He directs the Graduate Writing Program at the New School and is the editor of David Goodis: Five Noir Novels of the 1940s & 50s, also from The Library of America.