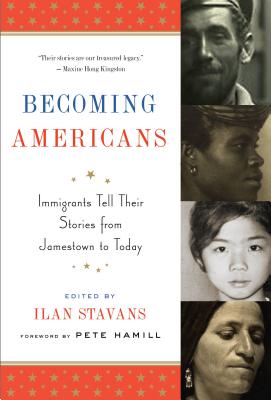 Becoming Americans (Paperback)
Immigrants Tell Their Stories from Jamestown to Today: A Library of America Special Publication
Library of America, 9781598532906, 752pp.
Publication Date: January 2, 2014
* Individual store prices may vary.
Description
Immigration is the essential American story, though one often told in terms of its impact on those already here. Becoming Americans tells this epic story from the inside, gathering for the first time over 400 years of writing by first-generation immigrants about the immigrant experience— from an indentured servant's wrenching letter home from seventeenth-century Jamestown to Anya Ulinich's 2008 story of Russian emigrés in Brooklyn. Over eighty writers create a vivid, passionate, and revealing firsthand account of the challenges and aspirations that define our dynamic, multicultural democracy. In nearly a hundred entries—poems, stories, novel excerpts, travel pieces, diary entries, memoirs, and letters—Becoming Americans presents the full range of the experience of coming to America: the reasons for departure, the journey itself, the shock and spectacle of first arrival, the passionate ambivalence toward the old country and the old life, and above all the struggle with the complexities of Americanization. Arranged in chronological order by date of arrival, this unprecedented collection presents a collective history of the United States that is both familiar and surprisingly new, as seen through the fresh eyes and fresh words of newcomers from more than forty different countries.
About the Author
ILAN STAVANS is the Lewis-Sebring Professor in Latin American and Latino Culture at Amherst College. His books include The Hispanic Condition and On Borrowed Words: A Memoir of Language. He edited Isaac Bashevis Singer: Collected Stories, volumes 149, 150, and 151 in the Library of America series.