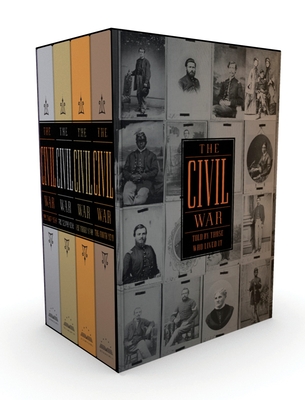 The Civil War Told by Those Who Lived It
A Library of America Boxed Set
Hardcover

* Individual store prices may vary.
Description
The definitive firsthand narrative of our nation's greatest conflict, now in a collector's boxed set: "Has there ever been another historical crisis of the magnitude of 1861–65 in which so many people were so articulate?" wondered Edmund Wilson in his 1962 classic Patriotic Gore. Reflecting the unprecedented, widespread literacy of nineteenth century Americans, an astonishing number of writers—white and black, male and female, soldiers and politicians, public intellectuals and private citizens—left vivid first-hand accounts of the Civil War. For the last four years, to mark the sesquicentennial of the most epochal event in American history, The Library of America has published a four-volume series that orchestrates this symphony of voices to chronicle as never before the full drama of the nation's most devastating conflict, from Lincoln's election in 186o to the Grand Review of the Armies in 1865. Now, in advance of the 150th anniversary of the war's climactic final months, all four volumes are presented in a beautiful collector's box. As a special feature, each box includes four pull-out posters featuring full color maps by expert Civil War cartographer Earl McElfresh. Here is the ultimate gift for anyone interested in the Civil War era.

LIBRARY OF AMERICA is an independent nonprofit cultural organization founded in 1979 to preserve our nation's literary heritage by publishing, and keeping permanently in print, America's best and most significant writing. The Library of America series includes more than 300 volumes to date, authoritative editions that average 1,000 pages in length, feature cloth covers, sewn bindings, and ribbon markers, and are printed on premium acid-free paper that will last for centuries.
Praise For The Civil War Told by Those Who Lived It: A Library of America Boxed Set…
"Nearly a century and a half later, with the legacy of the war still very much with us, The Civil War Told by Those Who Lived It allows us to return to the conflict anew, to encounter a spectrum of voices and experiences wider and more diverse than has ever been collected in a single series. Ultimately the work places us at the war's ground level, bringing us closer to the lived experience of Americans who endured this climactic period, providing a portrait more nuanced than could ever be condensed into narrative." — Randall Fuller, The Wall Street Journal

"This massive 3,624 page collection . . . is fascinating and deeply informative. The box set also contains four lovely maps. What a splendid gift this could make for any Civil War devotees." — Vick Mickunas, Dayton Daily News
Library of America, 9781598533507
Publication Date: October 2, 2014
About the Author
BROOKS D. SIMPSON is Professor of History and Humanities at Arizona State University and the author of several books including Ulysses S. Grant: Triumph Over Adversity, 1822–1865. STEPHEN W. SEARS is the author of authoritative histories of the Peninsula Campaign and the battles of Antietam, Chancellorsville, and Gettysburg. AARON SHEEHAN-DEAN is Fred C. Frey Chair in Southern Studies at Louisiana State University and the author of Why Confederates Fought: Family and Nation in Civil War Virginia and the Concise Historical Atlas of the U.S. Civil War.