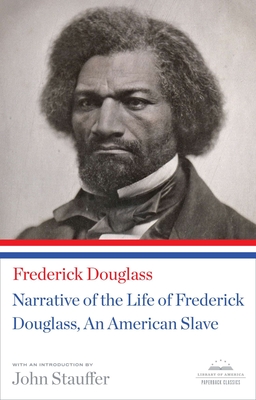 Narrative of the Life of Frederick Douglass, An American Slave
A Library of America Paperback Classic
Paperback

* Individual store prices may vary.
Other Editions of This Title:
Paperback (9/26/2018)
Paperback (1/4/2020)
Paperback (2/23/2012)
Paperback (8/16/2018)
Paperback (5/31/2019)
Paperback (2/21/2020)
Paperback (11/29/2013)
Paperback (6/16/2011)
Paperback (9/1/2014)
Paperback (3/31/2020)
Paperback (4/15/2014)
Paperback (8/18/2018)
Paperback (1/22/2020)
Paperback (11/4/2009)
Paperback (7/23/2016)
Paperback (2/26/2020)
Paperback (11/14/2011)
Paperback (6/13/2013)
Paperback (10/28/2016)
Paperback (11/16/2015)
Description
One of the greatest works of American autobiography, in a definitive Library of America text: Published seven years after his escape from slavery, Narrative of the Life of Frederick Douglass, an American Slave (1845) is a powerful account of the cruelty and oppression of the Maryland plantation culture into which Frederick Douglass was born. It brought him to the forefront of the antislavery movement and drew thousands, black and white, to the cause. Written in part as a response to skeptics who refused to believe that so articulate an orator could ever have been a slave, the Narrative reveals the eloquence and fierce intelligence that made Douglass a brilliantly effective spokesman for abolition and equal rights, as he shapes an inspiring vision of self-realization in the face of unimaginable odds.
Library of America, 9781598533514, 128pp.
Publication Date: October 9, 2014
About the Author
Born a slave, Frederick Douglass (c. 1818-1895) educated himself, escaped, and made himself one of the greatest leaders in American history. 

John Stauffer is a professor of English and American Literature and African American Studies and Chair of the History of American Civilization program at Harvard University. His eight books include The Black Hearts of Men: Radical Abolitionists and the Transformation of Race (2002) and Giants: The Parallel Lives of Frederick Douglass and Abraham Lincoln (2008).