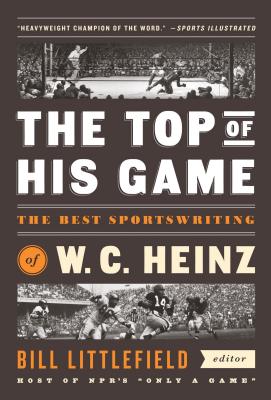 The Top of His Game
The Best Sportswriting of W. C. Heinz: A Library of America Special Publication
Hardcover

* Individual store prices may vary.
Other Editions of This Title:
Digital Audiobook (10/5/2015)
Paperback (4/27/2021)
Description
Bill Littlefield (NPR's Only a Game) presents the second installment in the Library of America series devoted to classic American sportswriters, a defintive collector's edition of the pathbreaking writer who invented the long-form sports story. Like his friend and admirer Red Smith, W. C. Heinz (1915–2008) was one of the most distinctive and  influential sportswriters of the last century. Though he began his career as a newspaper reporter, Heinz soon moved beyond the confines of the daily column, turning freelance and becoming the first sportwriter to make his living writing for magazines. In doing so he effectively invented the long-form sports story, perfecting a style that paved the way for the New Journalism of the 1960s. His profiles of the top athletes of his day still feel remarkably current, written with a freshness of perception, a gift for characterization, and a finely tuned ear for dialogue. Jimmy Breslin named Heinz's "Brownsville Bum"—a brief life of Al "Bummy" Davis, Brooklyn street tough and onetime welterweight champion of the world—"the greatest magazine sports story I've ever read, bar none." His spare and powerful 1949 column, "Death of a Race Horse," has been called a literary classic, a work of clarity and precision comparable to Hemingway at his best.

Now, for this essential writer's centennial, Bill Littlefield, the host of NPR's Only A Game, presents the essential Heinz: thirty-eight columns, profiles, and memoirs from the author's personal archive, including eighteen pieces never collected during his lifetime. Though Heinz's great passion was boxing—the golden era of Rocky Graziano, Floyd Patterson, and Sugar Ray Robinson—his interests extended to the wide world of sports, with indelible profiles of baseball players (Babe Ruth, Joe DiMaggio), jockeys (George Woolf, Eddie Arcaro), hockey players, football coaches, scouts and trainers and rodeo riders.
Praise For The Top of His Game: The Best Sportswriting of W. C. Heinz: A Library of America Special Publication…
"Heinz had it all—a deep understanding of human nature, a wonderful sense of humor, and a writing style so clear and clean that he makes the difficult seem easy, just the way a great athlete does." — David Maraniss

"Bill Heinz is not just one of the great sportswriters this country has produced, he is one of the great American writers." — Mike Lupica

"Heinz could make sentences sing, but his special gift was somehow to sound the chord of music that was the man. The subjects of his profiles lived and breathed and laughed and wept with unforgettable vitality." — Roger Kahn

"Heinz is that rare writer who not only becomes more important over time but more essential. His work deserves to be read and treasured by a new generation of readers." — Glenn Stout
Library of America, 9781598533729, 576pp.
Publication Date: March 10, 2015
About the Author
BILL LITTLEFIELD, a nationally known author and veteran sports commentator, has been the host of National Public Radio's weekly sports program Only A Game since it began in 1993. He lives in Boston.
or
Not Currently Available for Direct Purchase