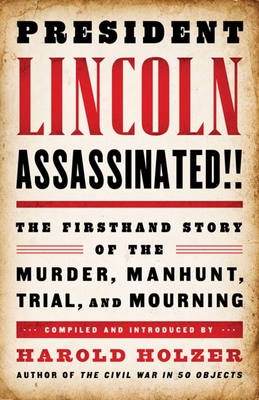 President Lincoln Assassinated!! (Hardcover)
the Firsthand Story of the Murder, Manhunt, Tr: A Library of America Special Publication
Library of America, 9781598533736, 480pp.
Publication Date: February 24, 2015
* Individual store prices may vary.
Description
For the 150th anniversary, Harold Holzer (The Civil War in 150 Objects) presents an unprecedented firsthand chronicle of one of the most pivotal moments in American history. On April 14, 1865, Good Friday, the Civil War claimed its ultimate sacrifice. President Lincoln Assassinated!! recaptures the dramatic immediacy of Lincoln's assassination, the hunt for the conspirators and their military trial, and the nation's mourning for the martyred president. The fateful story is told in more than eighty original documents—eyewitness reports, medical records, trial transcripts, newspaper articles, speeches, letters, diary entries, and poems—by more than seventy-five participants and observers, including the assassin John Wilkes Booth and Boston Corbett, the soldier who shot him. Courtroom testimony exposes the intricacies of the plot to kill the president; eulogies by Ralph Waldo Emerson, Wendell Phillips, and Benjamin Disraeli and poetry by Walt Whitman, Herman Melville and Julia Ward Howe give eloquent voice to grief; two emotional speeches by Frederick Douglass—one of them never before published—reveal his evolving perspective on Lincoln's legacy. Together these voices combine to reveal the full panorama of one the most shocking and tragic events in our history.
About the Author
HAROLD HOLZER is one of the country's leading authorities on Abraham Lincoln and the political culture of the Civil War era, has authored, coauthored, and edited more than forty books, including The Civil War in 150 Objects, Lincoln at Cooper Union, and The Lincoln Anthology: Great Writers on His Life and Legacy from 1860 to Now, volume number 192 in the Library of America series. His awards include the Lincoln Prize and the National Humanities Medal. He lives in New York City, where he is Senior Vice President for Public Affairs at the Metropolitan Museum of Art.
Praise For President Lincoln Assassinated!!: the Firsthand Story of the Murder, Manhunt, Tr: A Library of America Special Publication…
"With the deft mastery we have come to expect from him, Harold Holzer compiles a vivid, riveting, and at times profoundly moving narrative of the immediate reaction to perhaps the greatest cataclysm in American history, and of the sudden and unexpected need to come to terms with the death of the complicated man at the center of it, Abraham Lincoln." — Ken Burns, filmmaker

"As it moves between Washington and the American heartland, from the crime itself to all the mourning and retribution it engendered, this gathering of essential documents and eye-popping curiosities recreates Lincoln's murder with an extraordinary you-are-there vividness. I cannot think of another anthology—on any subject—that has been assembled with such narrative power and urgency." — Thomas Mallon, author of Henry and Clara

"The national tragedy that brought the Civil War to its appalling climax takes on new life and meaning in this remarkable compilation." — Stephen W. Sears, author of Landscape Turned Red

A Noteworthy Book for 2015

A History Book Club Selection
or
Not Currently Available for Direct Purchase