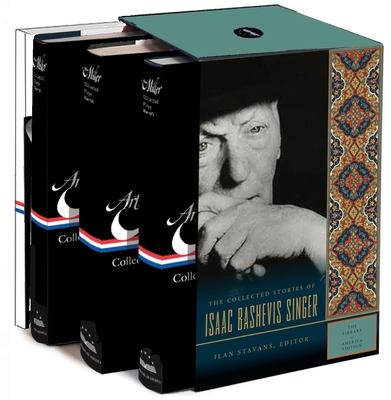 Isaac Bashevis Singer
The Collected Stories: A Library of America Boxed Set
Boxed Set

* Individual store prices may vary.
Other Editions of This Title:
Hardcover (7/8/2004)
Hardcover (7/8/2004)
Hardcover (7/8/2004)
Description
Now in a deluxe boxed set, The Library of America's three-volume collector's edition of the beloved Nobel Prize-winning writer and master storyteller.
  First pubished ten years ago to mark the centennial of the birth of Isaac Bashevis Singer, one of ten American writers to be awarded the Nobel Prize and perhaps the most influential and beloved Jewish American author, I
saac Bashevis Singer: The Collected Stories
 is now reissued in a deluxe boxed set. Beginning with "Gimpel the Fool," whose title story brought Singer to prominence in America when translated from Yiddish by Saul Bellow in 1953, and concluding with "The Death of Methuselah," the collection published three years before his death in 1991, this three-volume edition brings together for the first time all the story collections Singer published in English in the versions he called his "second originals"—translations he supervised and collaborated on himself, revising as he worked. In addition,
Collected Stories
 includes thirteen previously uncollected stories from the Ransom Center archives.
Here are nearly 200 stories in all—the full range of Singer's vision encompassing Old World shtetl and New World exile. Born in Poland in 1904 into a family of rabbis, Singer was raised in the traditional culture that was to be annihilated during World War II, and his haunting stories testify to the richness of that vanished world. Singer's Old World stories reveal a wild, mischievous, often disturbing supernaturalism evocative of both local storytelling traditions and dark undercurrents born of Singer's own concerns and obsessions.
As a special feature, the boxed set also includes
Isaac Bashevis Singer: An Album
, a compact illustrated biography accompanied by appreciations of and anecdotes about Singer from some of today's leading writers, including Cynthia Ozick, Jonathan Safran Foer, Francine Prose, Nicholas Dawidoff, and Joyce Carol Oates, among others.
LIBRARY OF AMERICA is an independent nonprofit cultural organization founded in 1979 to preserve our nation's literary heritage by publishing, and keeping permanently in print, America's best and most significant writing. The Library of America series includes more than 300 volumes to date, authoritative editions that average 1,000 pages in length, feature cloth covers, sewn bindings, and ribbon markers, and are printed on premium acid-free paper that will last for centuries.
Praise For Isaac Bashevis Singer: The Collected Stories: A Library of America Boxed Set…
The Library of America's celebration of Singer is magnificently done and a welcome tribute to one of the most inventive and captivating voices of the 20th century. — Jeff Simon, The Buffalo News

The lucid complexity of his storytelling is still startling—his blend of folktale mysticism and urbane cosmopolitanism, ironic humor and tragic fatalism, retains its ability to shock, while his tales of exile and assimilation still haunt. — The Boston Globe
Library of America, 9781598534559
Publication Date: November 3, 2015
About the Author
Isaac Bashevis Singer (1904-1991) is the most famous Yiddish writer of the twentieth century, and translations of his works have made him one of the most beloved in English. A prolific writer who vividly conjured the annihilated Jewish world of eastern Europe, he spoke to the fears, longings, and ambivalence of America's modern nation of immigrants. Singer drew on folk memories and mystical traditions to create a body of work that moved dramatically from the realistic to the fantastic, in ways that startled readers and inspired other writers. Singer's characters—often Holocaust survivors haunted by their immediate past and disoriented by American reality—dramatized the conflicts not only of postwar American Jews, but of an entire society committed both to cultural pluralism and to assimilation.

Ilan Stavans is the Lewis-Sebring Professor in Latin American and Latino Culture at Amherst College and the editor of The Oxford Book of Jewish Stories and The Poetry of Pablo Neruda. His work has been translated into half a dozen languages.
or
Not Currently Available for Direct Purchase