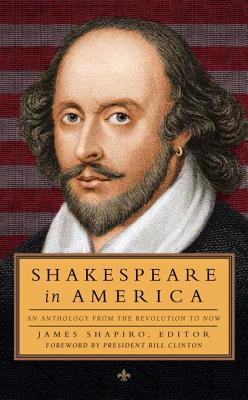 Shakespeare in America
An Anthology from the Revolution to Now (LOA #251)
Paperback

* Individual store prices may vary.
Description
"The history of Shakespeare in America," writes James Shapiro in his introduction to this groundbreaking anthology, "is also the history of America itself." Shakespeare was a central, inescapable part of America's literary inheritance, and a prism through which crucial American issues—revolution, slavery, war, social justice—were refracted and understood. In tracing the many surprising forms this influence took, Shapiro draws on many genres—poetry, fiction, essays, plays, memoirs, songs, speeches, letters, movie reviews, comedy routines—and on a remarkable range of American writers from Emerson, Melville, Lincoln, and Mark Twain to James Agee, John Berryman, Pauline Kael, and Cynthia Ozick. Americans of the revolutionary era ponder the question "to sign or not to sign;" Othello becomes the focal point of debates on race; the Astor Place riots, set off by a production of Macbeth, attest to the violent energies aroused by theatrical controversies; Jane Addams finds in King Lear a metaphor for American struggles between capital and labor. Orson Welles revolutionizes approaches to Shakespeare with his legendary productions of Macbeth and Julius Caesar; American actors from Charlotte Cushman and Ira Aldridge to John Barrymore, Paul Robeson, and Marlon Brando reimagine Shakespeare for each new era. The rich and tangled story of how Americans made Shakespeare their own is a literary and historical revelation. As a special feature, the book includes a foreword by Bill Clinton, among the latest in a long line of American presidents, including John Adams, John Quincy Adams, and Abraham Lincoln, who, as the collection demonstrates, have turned to Shakespeare's plays for inspiration.

LIBRARY OF AMERICA is an independent nonprofit cultural organization founded in 1979 to preserve our nation's literary heritage by publishing, and keeping permanently in print, America's best and most significant writing. The Library of America series includes more than 300 volumes to date, authoritative editions that average 1,000 pages in length, feature cloth covers, sewn bindings, and ribbon markers, and are printed on premium acid-free paper that will last for centuries.
Praise For Shakespeare in America: An Anthology from the Revolution to Now (LOA #251)…
"I think Americans will be fascinated to learn of our deep and early connection to the Bard, how he inspired presidents and incited mobs, and how vivid the legacy of one Englishman's imagination still sits within the consciousness of our country. Like Shakespeare's own plays, this anthology is full of enthralling stories and weird coincidences, and it's a treasure." — Meryl Streep

"This is one of the more brilliantly conceived and edited books in the entire recent history of the indispensable 'Library of America.'" --The Buffalo News

"There are discoveries and surprises along the way, like Lord Buckley's beat-era "Hipsters, Flipsters and Finger-Poppin' Daddies," an extended riff on Shakespeare's most famous speeches ("I came here to lay Caesar out, Not to hip you to him"), and "Shakespeares of 1922," a vaudeville sketch by Lorenz Hart and Morrie Ryskind. But for many readers the real eye opener will be the heated love affair, richly documented by Professor Shapiro, between ordinary Americans and the most exalted writer in the English language."  --William Grimes, The New York Times

"'Shakespeare in America: An Anthology From the Revolution to Now'…is a fascinating survey of the writer's importance to our culture and his influence on literature, politics, entertainment and more."
--Tampa Bay Times

"You will not want to miss a captivating volume just out from the Library of America titled 'Shakespeare in America: An Anthology From the Revolution to Now,' skillfully edited by James Shapiro." --James M. Keller, Santa Fe New Mexican

"Shakespeare's imprint on our culture and literature remains, as this anthology so amply demonstrates. A review of it can only answer one question: Does it accurately reflect the value that Shakespeare's plays have held in the hearts and minds of Americans throughout our history? Yes, it does. We have treasured them always and everywhere. They're truly a part of America."
--Bryan Woolley, Dallas Morning News

"Shakespeare in America" is an entertaining, thought-provoking miscellany, one that speaks as much to the American spirit of reinvention and assimilation as it does to the influence of one Elizabethan playwright and poet on the way we think and act and speak."
--James D. Watts, Jr., Tulsa World
Library of America, 9781598534627, 724pp.
Publication Date: January 12, 2016
About the Author
JAMES SHAPIRO, editor, is Larry Miller Professor of English at Columbia University and the author of Rival Playwrights, Shakespeare and the Jews, Oberammergau, 1599: A Year in the Life of William Shakespeare, and Contested Will: Who Wrote Shakespeare?, among other works. His newest book is The Year of Lear: Shakespeare in 1606. 


or
Not Currently Available for Direct Purchase