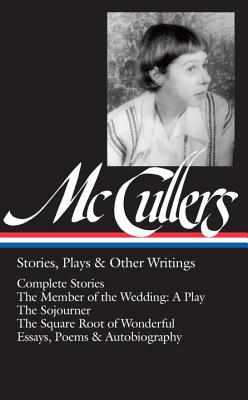 Carson McCullers: Stories, Plays & Other Writings (Hardcover)
Stories, Plays & Other Writings
Library of America, 9781598535112, 696pp.
Publication Date: January 24, 2017
Description
Celebrated worldwide for her masterly novels, Carson McCullers was equally accomplished, and equally moving, when writing in shorter forms. This Library of America volume brings together for the first time her twenty extraordinary stories, along with plays, essays, memoirs, and poems. Here are the indelible tales "Madame Zilensky and the King of Finland" and "A Tree. A Rock. A Cloud." as well as her previously uncollected story about the civil rights movement, "The March"; her award- winning Broadway play The Member of the Wedding and the unpublished teleplay The Sojourner; twenty-two essays; and the revealing unfinished memoir Illumination and Night Glare. This wide-ranging gathering of shorter works reveals new depths and dimensions of the writer whom V. S. Pritchett praised for her "courageous imagination--one that is bold enough to consider the terrible in human nature without loss of nerve, calm, dignity, or love.
About the Author
Carson McCullers was born Lula Carson Smith in Columbus, Georgia, on February 19, 1917. At the age of nineteen she published her first short story, "Wunderkind," in Story magazine, and soon was contributing fiction to The New Yorker, Harper's Bazaar, and Mademoiselle. She won early critical and commercial success with her first novel, The Heart Is a Lonely Hunter (1940), published when she was only twenty-three. Over the next quarter-century she published four more novels and a collection of short stories, and found Broadway success with her play The Member of the Wedding (produced in 1950). After a series of increasingly debilitating strokes, she died in Nyack, N.Y., in 1967, at the age of fifty. Carlos L. Dews is the editor of the two-volume Library of America Carson McCullers edition as well a Illumination and Night Glare: The Unfinished Autobiography of Carson McCullers (University of Wisconsin Press, 1999). He is chair of the Department of English Language and Literature at John Cabot University, Rome, and the Director of JCU's Institute for Creative Writing and Literary Translation. From the Boxed Set edition.
Advertisement