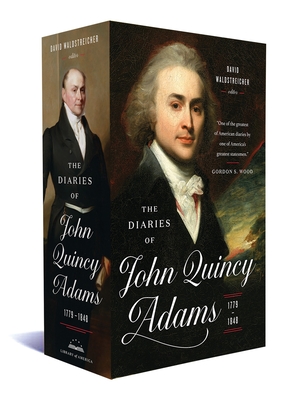 The Diaries of John Quincy Adams 1779-1848
A Library of America Boxed Set
Boxed Set

* Individual store prices may vary.
Other Editions of This Title:
Hardcover (3/26/1982)
Hardcover (3/26/1982)
Description
For the 250th anniversary of John Quincy Adams's birth, a landmark new selected edition of an American masterpiece: the incomparable self-portrait of a man and his times from the Revolution to the coming of the Civil War.

The diary of John Quincy Adams is one of the most extraordinary works in American literature. Begun in 1779 at the age of twelve and kept more or less faithfully until his death almost 70 years later, and totaling some fifteen thousand closely-written manuscript pages, it is both an unrivaled record of historical events and personalities from the nation's founding to the antebellum era and a masterpiece of American self-portraiture, tracing the spiritual, literary, and scientific interests of an exceptionally lively mind. Now, for the 250th anniversary of Adams's birth, Library of America and historian David Waldstreicher present a two-volume reader's edition of diary selections based for the first time on the original manuscripts, restoring personal and revealing passages suppressed in earlier editions.

Volume I begins during the American Revolution, with Adams's first entry, as he prepares to embark on a perilous wartime voyage to Europe with his father, diplomat John Adams, and records his early impressions of Franklin and Jefferson and of Paris on the eve of revolution; it details his abbreviated but eventful years of study at Harvard and his emergence into the world of politics in his own right, as American minister to the Netherlands and to Prussia, and then as a U. S. senator from Massachusetts; and it reveals a young man at war with his passions, before finding love with the remarkable Louisa Catherine Johnson. In passages that form a kind of real-world War and Peace, the diary follows the young married couple to St. Petersburg, where as U.S. minister Adams is a witness to Napoleon's invasion of Russia. Its account of the negotiations at Ghent to end the War of 1812, where Adams leads the American delegation, is the perhaps the most detailed and dramatic picture of a diplomatic confrontation ever recorded. Volume 1 concludes with his elevation as Secretary of State under James Monroe, as he takes the fore in a fractious cabinet and emerges as the principal architect of what will become known as the Monroe Doctrine.

Volume 2 opens with the political maneuverings within and outside Monroe's cabinet to become his successor, a process that culminates in Adams's election to the presidency by the House of Representatives after the deadlocked four-way contest of 1824. Even as Adams takes the oath of office, rivals Henry Clay, his Secretary of State, John C. Calhoun, his vice president, and an embittered Andrew Jackson, eye the election of 1828. The diary records in candid detail his frustration as his far-sighted agenda for national improvement founders on the rocks of internecine political factionalism, conflict that results in his becoming only the second president, with his father, to fail to secure reelection. After a short-lived retirement, Adams returns to public service as a Congressman from Massachusetts, and for the last seventeen years of his life he leads efforts to resist the extension of slavery and to end the notorious "gag rule" that stifles debate on the issue in Congress. In 1841 he further burnishes his reputation as a scourge of the Slave Power by successfully defending African mutineers of the slave ship Amistad before the Supreme Court. The diary achieves perhaps its greatest force in its prescient anticipation of the Civil War and Emancipation, an "object," as Adams described it during the Missouri Crisis, "vast in its compass, awful in its prospects, sublime and beautiful in its issue."

LIBRARY OF AMERICA is an independent nonprofit cultural organization founded in 1979 to preserve our nation's literary heritage by publishing, and keeping permanently in print, America's best and most significant writing. The Library of America series includes more than 300 volumes to date, authoritative editions that average 1,000 pages in length, feature cloth covers, sewn bindings, and ribbon markers, and are printed on premium acid-free paper that will last for centuries.
Praise For The Diaries of John Quincy Adams 1779-1848: A Library of America Boxed Set…
"A superb edition that should secure a place for the diary in the canon of American literature. . . . The inner life of John Quincy Adams has been until now mostly a secret. One of the gifts of the new edition is to give us a glimpse into his heart." --Andrew Delbanco, The New York Review of Books

"JQA is a masterly diarist. . . . [This] will be the standard reader's edition of this masterpiece, which gives an account of both a fascinating life and a thrilling, disastrous period of American history." 
--Richard Brookhiser, The Wall Street Journal

"The latest entry in the prestigious Library of America collection is a distinct treat, something long overdue for an attractive, accessible edition. . . . Readers don't encounter mere bare memos of events -- they're again and again immersed in well-drawn scenes and vivid personalities. Adams displays a dramatist's ear not only for dialogue but also for pacing. . . . It's an astonishing sustained performance. . . . Reading these entries for hours on end is spellbinding." 
--The Christian Science Monitor

"One of the greatest of American diaries by one of America's greatest statesmen."
--Gordon S. Wood, Pulitzer Prize-winning author of The Radicalism of the American Revolution

"There is no figure in American history like John Quincy Adams, a lawyer, scholar, poet, and statesman of boundless energy and vision. And in the annals of American history there is nothing comparable to his diaries, both as the lifetime record of a turbulent era and its people, and as a revealing portrait of an extraordinary man and his famous family. Based upon the original manuscript volumes, and including scores of passages suppressed in earlier editions, this Library of America edition restores a national treasure in all its richness and surprising passion."
--Edith B. Gelles, author of Abigail & John: Portrait of a Marriage


"The candid diary of John Quincy Adams records the day-to-day insights, hopes, passions, and frustrations of one of America's wisest and most courageous patriots. Spanning almost seventy years, it addresses issues as varied as foreign policy, civil liberties, gender equality, and government aid for science, but especially the scourge of slavery, which Adams foresaw would rend the Union he worked so hard to build up. The Library of America here makes available an unparalleled resource for the study of our nation's politics, history, and enduring values."
--Daniel Walker Howe, Pulitzer Prize-winning author of What Hath God Wrought: The Transformation of America, 1815-1848
Library of America, 9781598535211, 1516pp.
Publication Date: June 20, 2017
About the Author
John Quincy Adams (1767 -1848) was one of the most experienced and well-traveled American statesmen of his era. Before becoming the sixth president of the United States in 1825, he had served as a diplomat in the Netherlands, Prussia, Russia, and England, led the American commission that negotiated the Treaty of Ghent, ending the War of 1812, and served two terms as secretary of state. After his presidency, Adams was elected to the U.S. House of Representatives, serving for the remainder of his life, until his fatal collapse at his Congressional desk.

David Waldstreicher is Distinguished Professor of History at the Graduate Center, City University of New York, and the author of Slavery's Constitution: From Revolution to Ratification (2009); Runaway America: Benjamin Franklin, Slavery and the American Revolution (2004); and In the Midst of Perpetual Fetes: The Making of American Nationalism, 1776-1820 (1997). As editor, his books include A Companion to John Adams and John Quincy Adams (2013).
or
Not Currently Available for Direct Purchase