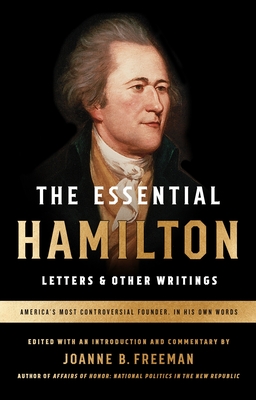 The Essential Hamilton (Paperback)
Letters & Other Writings
Library of America, 9781598535365, 447pp.
Publication Date: May 23, 2017
Description
America's most controversial founder--in his own words A brash immigrant who rose to become George Washington's right-hand man. A fierce partisan whose nationalist vision made him Thomas Jefferson's bitter rival. An unfaithful husband whose commitment to personal honor brought his life to a tragic early end. The amazing success of Lin-Manuel Miranda's musical Hamilton has stoked an extraordinary resurgence of interest in Alexander Hamilton, the brilliant and divisive founder who profoundly shaped the American republic. Now, Library of America presents an unrivaled portrait of Hamilton in his own words, charting his meteoric rise, his controversial tenure as treasury secretary, and his scandalous final years, culminating in his infamous duel with Aaron Burr. Selected and introduced by acclaimed historian Joanne B. Freeman, here is a reader's edition of Hamilton's essential public writings and private letters, plus the correspondence between Burr and Hamilton that led to their duel and two conflicting eyewitness accounts of their fatal encounter.
About the Author
JOANNE B. FREEMAN, editor, is professor of History and American Studies at Yale University and a leading authority on Hamilton and his world. Author of the award-winning Affairs of Honor: National Politics in the New Republic and a co-host of the popular history podcast BackStory, she has appeared in numerous PBS American Experience documentaries, and, more recently, in the Great Performances documentary "Hamilton's America."
Advertisement