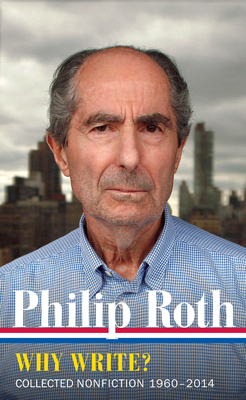 Philip Roth
Why Write? (LOA #300): Collected Nonfiction 1960-2014 (Library of America Philip Roth Edition #10)
Hardcover

* Individual store prices may vary.
Description
America's most celebrated writer returns with a definitive edition of his essential statements on literature, his controversial novels, and the writing life, including including six pieces published here for the first time and many others newly revised.

Throughout a unparalleled literary career that includes two National Book Awards (Goodbye, Columbus, 1959 and Sabbath's Theater, 1995), the Pulitzer Prize in fiction (American Pastoral, 1997), the National Book Critics Circle Award (The Counterlife, 1986), and the National Humanities Medal (awarded by President Obama in 2011), among many other honors, Philip Roth has produced an extraordinary body of nonfiction writing on a wide range of topics: his own work and that of the writers he admires, the creative process, and the state of American culture. This work is collected for the first time in Why Write?, the tenth and final volume in the Library of America's definitive Philip Roth edition. Here is Roth's selection of the indispensable core of Reading Myself and Others, the entirety of the 2001 book Shop Talk, and "Explanations," a collection of fourteen later pieces brought together here for the first time, six never before published. Among the essays gathered are "My Uchronia," an account of the genesis of The Plot Against America, a novel grounded in the insight that "all the assurances are provisional, even here in a two-hundred-year-old democracy"; "Errata," the unabridged version of the "Open Letter to Wikipedia" published on The New Yorker's website in 2012 to counter the online encyclopedia's egregious errors about his life and work; and "The Ruthless Intimacy of Fiction," a speech delivered on the occasion of his eightieth birthday that celebrates the "refractory way of living" of Sabbath's Theater's Mickey Sabbath. Also included are two lengthy interviews given after Roth's retirement, which take stock of a lifetime of work.

LIBRARY OF AMERICA is an independent nonprofit cultural organization founded in 1979 to preserve our nation's literary heritage by publishing, and keeping permanently in print, America's best and most significant writing. The Library of America series includes more than 300 volumes to date, authoritative editions that average 1,000 pages in length, feature cloth covers, sewn bindings, and ribbon markers, and are printed on premium acid-free paper that will last for centuries.
Praise For Philip Roth: Why Write? (LOA #300): Collected Nonfiction 1960-2014 (Library of America Philip Roth Edition #10)…
"Our hero continues his great and devouring argument with life, exhibiting a tremendous generosity of spirit towards other voyagers in literature and a magnificent defiance of the prohibition that an artist shouldn't intellectualize and defend his own work it in the public arena. At a time when we seem to be questioning every verity, Why Write? is essential reading." -- Jonathan Lethem

"Why Write? is a page-turning classic, a cover-to-cover joy, a party in your head. Its sustained cry against tyranny in all its forms is required reading for this or any age." -- Mary Karr

"Consistently intelligent and entertaining." --James Campbell, The Wall Street Journal 

"At a time of renewed sensitivity to questions of cultural identity, the biographical fallacy has returned in full force. Readers and critics, distraught at the nihilism of the current political nightmare, have sought comfort in fiction that affirms their principles and beliefs, fiction in which victimized peoples rise triumphant. . . . But we should hope for something more. We should hope for new Philip Roths." --Nathaniel Rich, The New York Review of Books
Library of America, 9781598535402, 476pp.
Publication Date: September 12, 2017
About the Author
In 1997, Philip Roth won the Pulitzer Prize for American Pastoral and in 2002 he received the highest award of the American Academy of Arts and Letters, the Gold Medal in Fiction, previously awarded to John Dos Passos, William Faulkner, and Saul Bellow, among others. He has twice won the National Book Award and the National Book Critics Circle Award and the PEN/Faulkner Award three times. His collected works have been published in a definitive ten-volume edition by the Library of America.
or
Not Currently Available for Direct Purchase