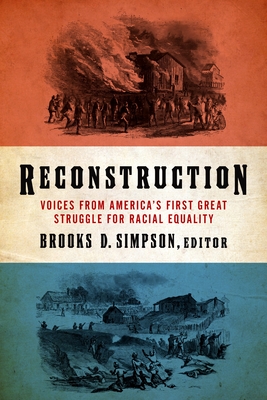 Reconstruction
Voices from America's First Great Struggle for Racial Equality (LOA #303)
Hardcover

* Individual store prices may vary.
Description
The violent aftermath of the Civil War comes to dramatic life in this sweeping new collection of firsthand writing 

Few periods in American history are more consequential but less understood than Reconstruction, the tumultuous twelve years after Appomattox, when the battered nation sought to reconstitute itself and confront the legacy of two centuries of slavery. 

This anthology brings together more than one hundred contemporary letters, diary entries, interviews, testimonies, and articles by ordinary men and women and well-known figures such as Frederick Douglass, Frances Ellen Watkins Harper, Andrew Johnson, Thaddeus Stevens, Ulysses S. Grant, Elizabeth Cady Stanton, Mark Twain, and Albion Tourgée.

Through their eyes readers experience the fierce contest between President Andrew Johnson and the Radical Republicans resulting in the nation's first presidential impeachment; the adoption of the revolutionary 14th and 15th Amendments; the first achievements of black political power; and the murderous terrorism of the Klan and other groups that, combined with northern weariness, indifference, and hostility, eventually resulted in the restoration of white supremacy in the South. 

Throughout, Americans confront the essential questions left unresolved by the defeat of secession: What system of labor would replace slavery, and what would become of the southern plantations? Would the war end in the restoration of a union of sovereign states, or in the creation of a truly national government? What would citizenship mean after emancipation, and what civil rights would the freed people gain? Would suffrage be extended to African American men, and to all women?
Praise For Reconstruction: Voices from America's First Great Struggle for Racial Equality (LOA #303)…
"Very, very good. . . . Reconstruction conveys the struggle for racial equality better than many other anthologies documenting the era. . . . It cannot be read without a sigh for what might have been in post-Civil War America--for a republic not only restored geographically and politically but genuinely built, as Lincoln had hoped, around the principles of free-labor economics and constitutional equality." — ALLEN C. GUELZO, The Wall Street Journal

"For the men and women who lived it, Reconstruction was not an abstraction but an experiment in hope, in justice, in the very best of American principles. Generous, capacious, fresh and wide-ranging, this volume is indispensable for understanding the myriad voices of the nation. And it's hard to put down." — BRENDA WINEAPPLE author of Ecstatic Nation: Confidence, Crisis, and Compromise, 1848–1877 

"Our most fiercely fought conflict over racial equality was not the Civil War—it was Reconstruction. This momentous and bloody period, highly pertinent to the present, is still far too obscure. Library of America has taken a major step toward correcting that with this superbly well-chosen collection." — NICHOLAS LEMANN author of Redemption: The Last Battle of the Civil War 

"This is where modern America was made, and the diverse voices represented here capture the era in all its complexity and tragedy." — AARON SHEEHAN-DEAN author of Why Confederates Fought: Family and Nation in Civil War Virginia 
Library of America, 9781598535556, 799pp.
Publication Date: January 30, 2018
About the Author
Brooks D. Simpson, editor, is Foundation Professor of History at Arizona State University. He is the author of Let Us Have Peace: Ulysses S. Grant and the Politics of War and Reconstruction, 1861-1868 and Ulysses S. Grant: Triumph over Adversity, 1822-1865, editor of The Civil War: The Third Year Told by Those Who Lived It, and co-editor of The Civil War: The First Year Told by Those Who Lived It and Sherman's Civil War: Selected Correspondence of William T. Sherman, 1860-65.
or
Not Currently Available for Direct Purchase