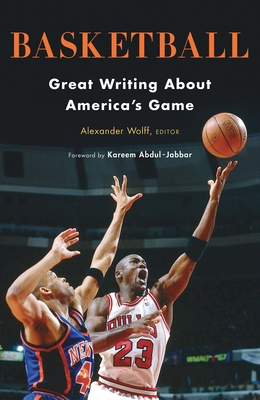 Basketball
Great Writing About America's Game: A Library of America Special Publication
Hardcover

* Individual store prices may vary.
Description
From the street game to March Madness to Jordan and LeBron, the greatest writing about the grit, grace, and glory of basketball

Made in America, basketball is a sport that stirs a national passion, reaching fever pitch during the NCAA's March Madness and the NBA Finals. Masterfully assembled by longtime Sports Illustrated writer Alexander Wolff, Basketball spans eight decades to bring together a dream team of writers as awe-inspiring and endlessly inventive as the game itself. Here are in-depth profiles of the legends of the hardcourt--Russell, Kareem, Bird, Jordan, and LeBron--and storied franchises such as the Knicks and Celtics, along with dazzling portraits of the flash and sizzle of playground ball and more personal reflections on the game by some of America's finest writers, among them Donald Hall, John Edgar Wideman, and Pat Conroy. Highlights include James Naismith recalling how he invented the game that would go on to conquer the world; John McPhee capturing the ever-disciplined Bill Bradley as a Princeton Tiger; Peter Goldman's indelible portrait of the life and death of a Harlem Globetrotter; and Michael Lewis's account of the brave new world of NBA analytics. Classic journalism about inner-city basketball by Pete Axthelm, Rick Telander, and Darcy Frey is joined by stories of the game's popularity across America, from the heartland of Hoosier country to an Apache Reservation in Arizona.

Cover: Copyright © 1996 by NBAE. Photo by Nathaniel S. Butler/NBAE/Getty Images.
Praise For Basketball: Great Writing About America's Game: A Library of America Special Publication…
"Splendid. . . . Like an all-star game between hard covers."
—David M. Shribman, The Wall Street Journal

"A great hoops book. . . . Casts a wide net that goes far beyond the NBA . . .  [to] speak to the multitudes contained within the game, whether it's played on the biggest stage in the world or a playground after dark." 
— Chris Vognar, Dallas Morning News 

"An embarrassment of riches. . . . This collection is a slam dunk for anyone who loves basketball."
—Erik Spanberg, The Christian Science Monitor

"Deserves a place on the shelf of any self-respecting hoops fan."
— Alex Belth, Deadspin.com/The Stacks

"What a terrific book. . . . Wolff's basketball anthology is such a wonderful surprise."
— Jeff Simon, The Buffalo News

"Alexander Wolff has put together this collection like a master point guard distributing the ball, deftly providing both a chronology of the game and a full, rich accounting of its place in American culture."
—Glenn Stout, series editor, The Best American Sports Writing 


Library of America, 9781598535563, 485pp.
Publication Date: February 27, 2018
About the Author
Longtime Sports Illustrated contributor ALEXANDER WOLFF is the author or co-author of seven books on basketball, including The Audacity of Hoop: Basketball and the Age of Obama; the New York Times bestseller Raw Recruits; and Big Game, Small World: A Basketball Adventure, a 2002 New York Times Notable Book. In 2011 he was named winner of the Naismith Basketball Hall of Fame's Curt Gowdy Media Award for lifetime coverage of the game.
or
Not Currently Available for Direct Purchase